As at 23 June this year, 2,894 Indians were waiting to arrive in Australia on a Skilled – Regional (Provisional) visa.
The number of Skilled – Regional (Provisional ) (subclass 489)) visa holders from India with an in-effect visa outside Australia by primary and secondary applicants as at 23 June 2021 was 2,050. Out of these, 1,407 were secondary applicants.
844 people who have Skilled – Regional (Provisional) (subclass 491) visa were in India as on 23 June.
The Department of Home Affairs has released these figures in response to a Freedom of Information request.
Australia is opening its international borders next month, but only permanent residents and citizens will be allowed to travel. Thousands of temporary Australian visa holders are in a limbo as the government has not clarified yet when they would be allowed to enter Australia.
Indian citizens holding temporary Australian visa
According to the documents released by the Department of Home Affairs, the number of Indian citizens holding a temporary Australian visa was 141,964 as at 23 June 2021.
These figures include both primary and secondary applicants who are either in Australia or overseas.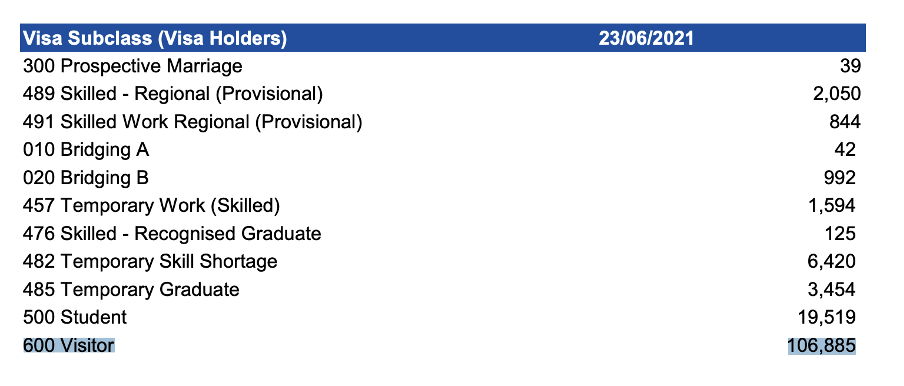 People with visitor (Sub Class 600) topped the list with 106,885 Indian citizens holding this visa, followed by Students (SC 500) visa. As at 23 June 2021, a total of 19,519 people had a student visa inside and outside Australia.