Many in the Indian community are disturbed by Minister Alex Hawke's comments about Vishal Jood, an Indian student who has served a six-month criminal sentence in an Australian prison.
Australia's Minister for Immigration, Citizenship, Migrant Services and Multicultural Affairs Alex Hawke is facing flak for his comments on Indian student Vishal Jood, who left the country this month after serving six months of his 12-month-long prison sentence for violent crimes.
In a strongly-worded statement, the Minister acknowledged Australia's Hindu and Sikh community leaders for their efforts to build cross-community unity.
The statement said, "Following his release from custody, the Australian Government immediately assisted an Indian national to depart Australia on the first available flight to India. The man was an unlawful non-citizen at the time of his arrest."
"The Morrison Government takes very seriously its responsibility to protect Australians from non-citizens who engage in criminal conduct. We will always act decisively to protect our community."
"Attempts to undermine Australia's social cohesion will not be tolerated."
"I am pleased that this unfortunate event has seen our resilient local Hindu and Sikh communities unite. In particular, I want to thank community leaders who have worked hard to support their communities in the face of these unfortunate events. Their efforts to build cross-community unity and resilience against the attempts by a small minority to incite discord and disharmony have demonstrated the importance and benefit of our nation's strong social cohesion."
"Irresponsible and ill-informed."
Minister's strong words have irked many in the community.
Journalist Jitarth Bhardwaj says Minister's statement "is defaming the whole Hindu community."
"Sad Federal Multicultural Affairs Minister othering Australian Hindu community and India," he tweeted adding, "We demand an apology."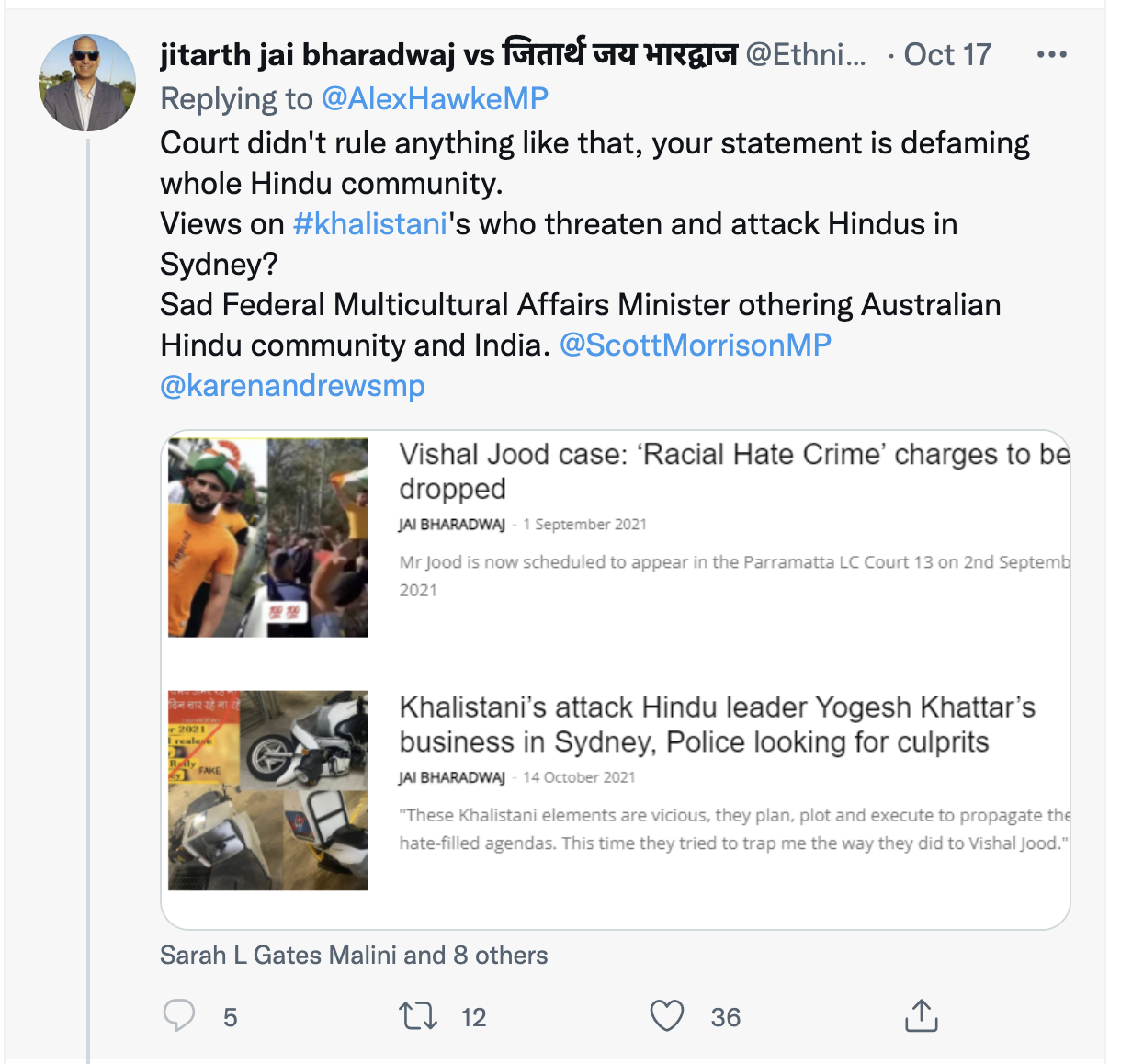 Sydney Arya Samaj president Yogesh Khattar believes that the Minister's comments were unnecessary.
He told NRI Affairs, "Minister Alex Hawke should have read the court decision before making such a statement. Furthermore, Vishal's lawyer has also clarified what exactly happened."
"There is no animosity between Hindus and Sikhs.", Khattar added.
Barrister Amrinder Singh, who represented Vishal Jood in court, tweeted, "Selective, irresponsible and ill-informed tweets by a cabinet Minister Alex Hawke."
NRI Affairs approached Mr Singh for comments but did not get any response. However, on Twitter, he said, "Vishal Jood was not deported; he was not dealt with based on animosity towards any community."
Jood, who pleaded guilty to three charges, including 'assault', 'occasioning actual bodily harm in the company of others' and 'armed to commit indictable offence', received a hero's welcome in India. Chief Minister of Haryana ML Khattar facilitated him after his return.
'Criminal-supporters are defaming Hinduism'
'Turbans 4 Australia' president Amar Singh says the wider community supports Minister Hawke's statement on this matter.
"At the end of the day, the Minister has to look at the wider interest of the Australian society here. So I think we endorse his decision, and we support it. People commenting on Facebook is straightforward, but if these people were the victim of the violence, then their attitude towards these people would be totally different," he told NRI Affairs.
Mr Singh says the wider Indian community do not support criminals like him.
"It is a shame if our community accepts these people as normal community members. But I think it's a credit to the wider Indian community for not supporting people like him. He didn't have a current visa, and he will never come back. He was never part of a productive life. These people are harmful to the wider society," Mr Singh told NRI Affairs, adding, "Australia is a fair and equal society. All the religions live peacefully here. There is no room for hate."
Some social media commentators have claimed that Minister Hawke's statement defames Hindus in Australia. Advocacy group Hindus for Human Rights ANZ refutes these claims saying it is in fact supporting criminals that defames the religion.
"A person who broke the law cannot and should not be supported. The Minister's message is clear. Criminals are not welcome in the country. Those supporting such criminals in the name of Hinduism are the ones defaming our religion," a HfHR ANZ spokesperson told NRI Affairs.