"We live in a country where we're allowed to practice and have faith in what we want," said the grateful aerospace medical technician.
Darshan Shah, an Airman in the US Air Force posted at the FE Warren Air Force Base, Wyoming, is extremely grateful and happy that he has been granted a waiver to wear a Tilak Chandlo while in military uniform.
The Tilak Chandlo is a mark applied on the forehead by many Hindu sects and members of a Hindu Vaishnava religious group, the Swaminarayan Sampradaya. The religious symbol of this sect is a red dot or Chandlo surrounded by an orange U-shaped tilak. Shah has been seeking the waiver since attending Basic Military Training in June 2020. He spoke to the Superintendent of Personal Programs at the Air Force Global Strike Command every month for updates on the status of his request. Two years later, on 22 February 2022, he was at last given authorization to wear the tilak.
Now an aerospace medical technician, Darshan grew up in Eden Prairie, Minnesota, with his parents and two elder sisters. He went to live with his grandparents in Gujarat, India when he was just two years old and stayed with them for a couple of years. Here he learnt about Hinduism and its various festivals and customs. His grandparents also taught him to speak his mother-tongue, Gujarati.
"I've actually been wearing the Tilak Chandlo before I joined the military," said Shah. "Third grade is when I first started wearing it," he says.
"My friends from Texas, California, New Jersey and New York are messaging me and my parents that they are very happy something like this happened in the Air Force," said Shah. "It's something new. It's something they've never heard of before or even thought was possible, but it happened," Shah said.
Follow NRI Affairs on Facebook and Twitter for latest updates. Support us on Patreon.
Darshan did not forget to express gratitude at being given the waiver.
"We live in a country where we're allowed to practice and have faith in what we want," said Shah. "That's what makes this such a great country. We're not persecuted for what we follow or believe. If it wasn't for the first amendment, I wouldn't be able to do this at all. I wouldn't be able to be who I am while being a military member or even a citizen," he declared in an Air force communiqué of the 90th Missile Wing Chaplain Corps.
In the United States, religious and civil liberties are guaranteed by the First Amendment to the United States Constitution and religious freedom is celebrated among all sections of the population.
News of Darshan's achievement in following up this waiver to wear the Tilak Chandlo in uniform has raised a few diverse views on social media, where some people have expressed pride and jubilation, while others have lauded the liberty he enjoys to openly express his religious freedom, both in and out of uniform, comparing it to the High Court judgement that upheld the state government ban on college girls wearing hijab to their classes in Karnataka.
The High Court in India's Karnataka state had ruled on 15 March 2022, that the hijab is not "essential" to Islam in a landmark case after a college in the state had barred entry to Muslim girls wearing headscarves and hijab, even though the petitioners argued that it violated their constitutional rights.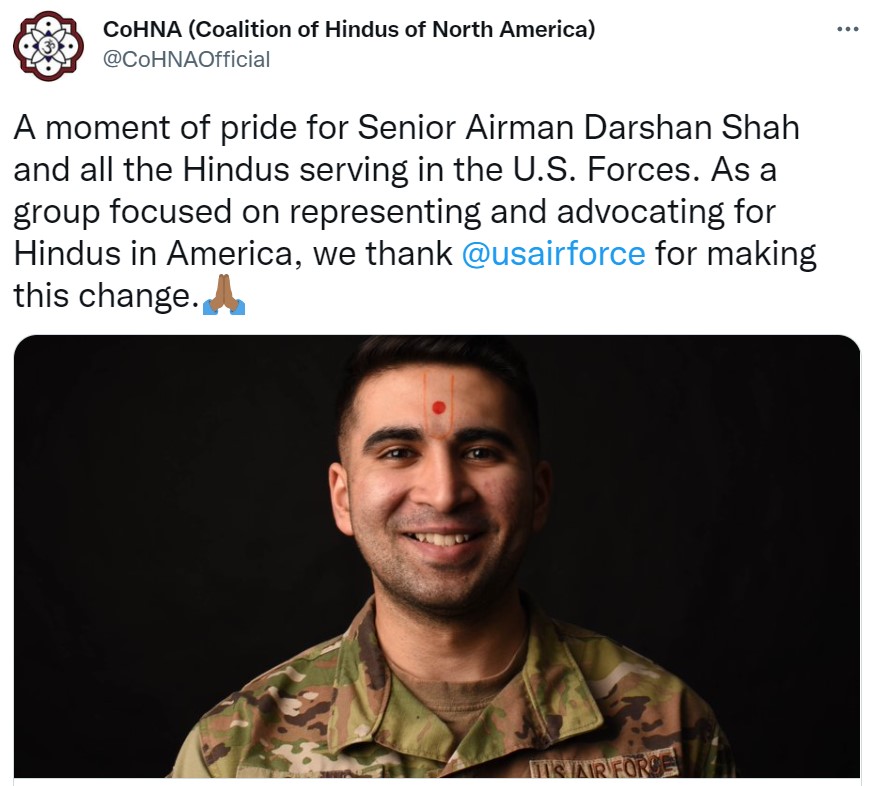 Mr. A. P. Singh said on Twitter, "the credit goes to the USA for honourably adjusting the Culturally Diverse People in its Armed Forces. The Sikhs were allowed to serve with turban and beard since the times of President Eisenhower".
Twitter handle Nikhil also pointed out: "Proud moment for culturally diverse USA, not Hindus. Just last week you guys stopped thousands of hijab-wearing Muslim girls to even attend classes".
However, there were plenty of rejoicing at the news from many social media users too.
Cultural activist of Society for the Promotion of Indian Classical Music And Culture Amongst Youth (SPIC MACAY), Manish Singh Thakur expressed joy at the waiver and said, "the first US Air Force personnel sporting a tilak, while in uniform. A proud Hindu American, Darshan Shah has been wearing the tilak since his 3rd grade". There were many others who echoed his thoughts.