Melbourne's unique Small Works Art Exhibition 2022 (smArt 2022) is bringing together artists in the community displaying their talent in small format.
'smART' is an annual exhibition of small works in any medium and style, organised by Preetkriti. It is currently being held at The Track Gallery in Melbourne.
The idea behind smART is to challenge artists to bring about their creative best in a small format. It is a wonderful platform for artists of all ages and levels.
Pratibha Madan, who conceptualised the ideal of 'smART' and has been organising the exhibition annually since 2019 told NRI Affairs, "I started smART in 2019 with the idea of connecting artists in the community with each other along with showing their talents in small format. This open entry exhibition has now been an annual feature at the track gallery and is much sought after. 125+ artists (6 to101 years old) have exhibited their 400+ artworks at 4 smART exhibitions so far. 'smART' has been a n excellent first exhibition opportunity for lot of community members."
This year's exhibition features 11-year old Harleen Kaur, the youngest among the artists, who has been painting since she was four years old. Aileen Brooks, the oldest among the artists, will be turning 102 in May. Aileen started painting at the age of 94 and strives to do one painting a week.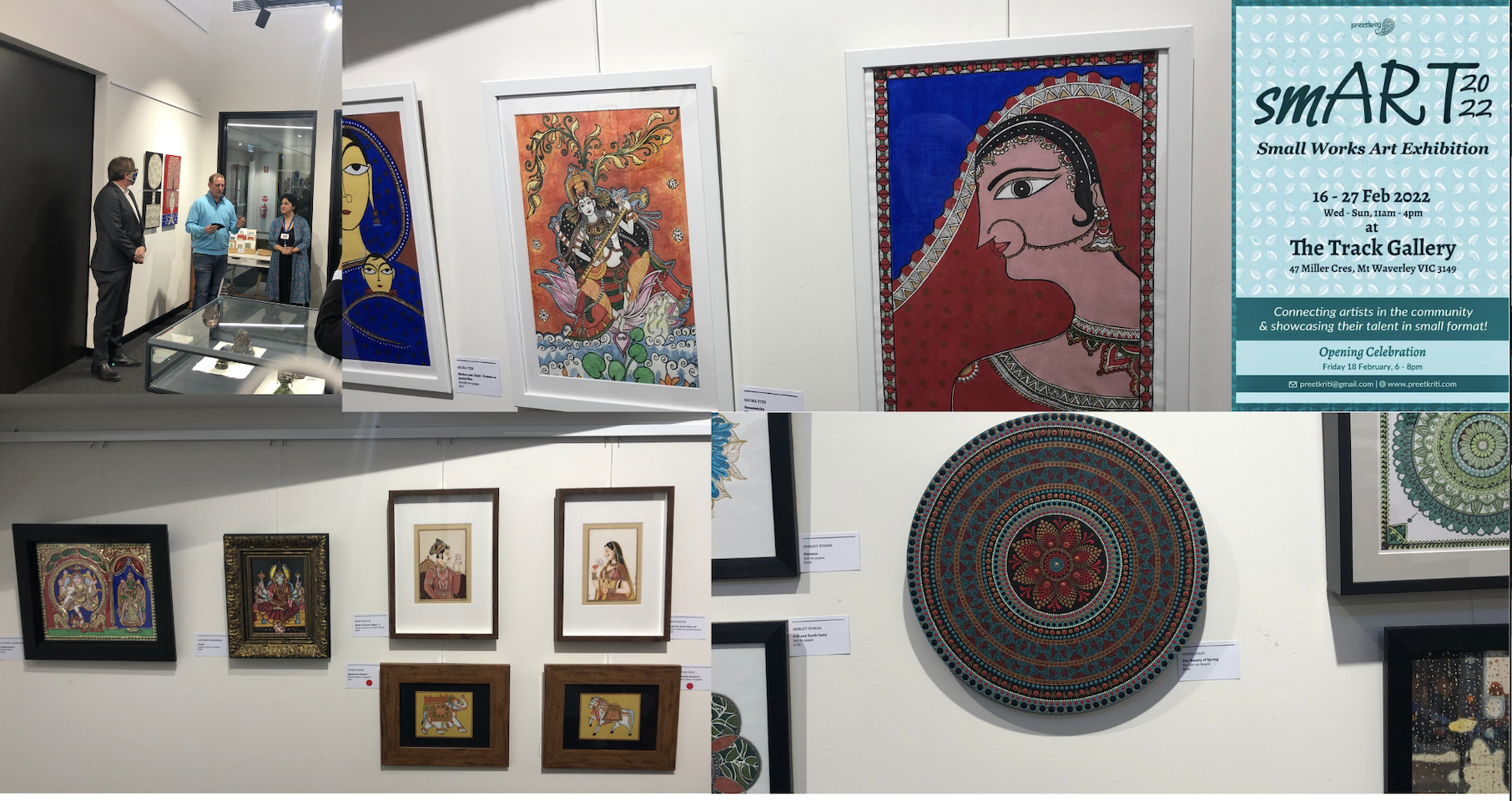 Other artists showcasing the small format art included the organiser Pratibha Madan, Rishu Kapoor, Abby Martin, Alistair Powler, Angela New, Ann Groves, Anudeepa Kadiresan, Barbara Vernon, Gopinath Iyer, Hruthi Madhavan, Jyothi Mohan, Adya Madan, Laila Tabassum, Mansi Jolly, Monica Dave, Monalisa, Rahila Zeeshan, Ramnath Iyer, Shirley Kumar and Shobha Iyer.
Matt Fregon, member of the Victorian Legislative Assembly seat of Mount Waverley and the Stuart James, Mayor, City of Monash were present at the inauguration.
smArt 2022 is being held at The Track Gallery, 47 Miller Cres, Mt Waverley VIC 3149 from 16-27 February 2022, Open 11 AM to 4 PM (Wednesday-Sunday).
Follow NRI Affairs on Facebook and Twitter for latest updates. Support us on Patreon.