Sikh groups in Canada and Australia have condemned what they allege as 'foreign interference by the Indian government' on their respective soils and demanded immediate action.
Australia
Sikhs of Australia (SOA), a collective of Australian Sikhs Gurdwaras & Sikh Organisations, has issued a statement that it "profoundly regrets and condemns the recent events that have affected our global Sikh community and raised concerns regarding justice, security, and harmony."
Referring to the Canadian Prime Minister Justin Trudeau's accusation that individuals associated with the Indian government of orchestrating the assassination of a prominent Sikh community leader in British Columbia back in June, the statement by Sikhs in Australia said, "We collectively condemn the deeply troubling revelation of Indian Govt agencies' alleged involvement in the tragic killing of an Prominent Canadian citizen, Hardeep Singh Nijjar, on Canadian soil. These disturbing findings from the Canadian Government's investigation have exposed an act that undermines the very principles of justice, fairness, and respect for human life."
While commending the Canadian Government for "its swift and transparent investigation into this matter", SOA requested the Australian Government to take all necessary measures to ensure the safety and security of the Sikh community in Australia.
"We believe in the importance of international cooperation and mutual respect among nations. We urge both the Australian and Canadian governments to address this incident in a manner that respects the rule of law, human rights, and the principles of justice. We expect that those responsible for this heinous act, regardless of their affiliations, be held accountable under the law", the SOA statement said.
Statement also called the Queensland Police's disclosure, as brought to light by RTI activist Bhabishan Singh Goraya, regarding the repeated vandalisation of Hindu temples in Brisbane and Melbourne, as "unsettling".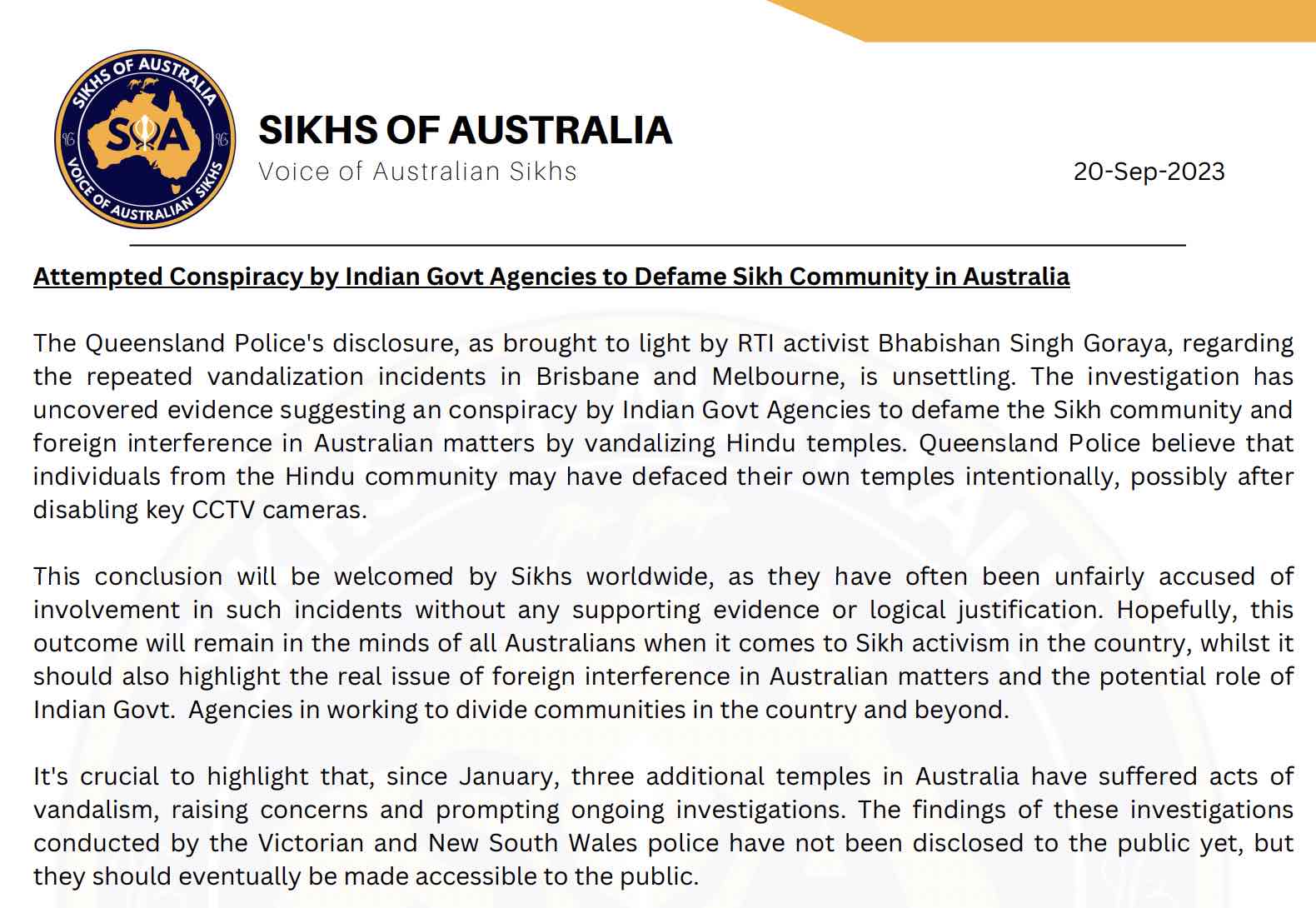 The RTI application was filed by Bhabishan Singh Goraya, who received a reply from the Queensland Police dated September 5, 2023, shedding light on the status of the case. The Queensland Police have released a total of five complete and seven partial investigation documents to Sikh activist and author B S Goraya. Goraya had alleged that Sikhs were unfairly accused of vandalism without proper inquiry. The incident occurred at the Hindu Temple located at 45 Daymer Street, Burbank, Queensland. Furthermore, the report suggests that intelligence officers entertained an alternative theory, speculating that the graffiti may have been carried out by individuals within the Hindu community itself.
Graffiti was written on the walls of Shree Laxmi Narayan Temple temple in Brisbane in March, in what was the fourth incident of vandalism targeting Hindu temples in Australia. Several Indian news sites reported the incident as having been perpetrated by 'pro-Khalistan Sikhs'.
"It is crucial to highlight that, since January, three additional temples in Australia have suffered acts of vandalism, raising concerns and prompting ongoing investigations. The findings of these investigations conducted by the Victorian and New South Wales police have not been disclosed to the public yet, but they should eventually be made accessible to the public.", SOA urged, adding that it anticipated that "the Australian government will adopt a strong stance against oppression and political killings, and we encourage the Sikh community to maintain their composure during these challenging times."
The statement is endorsed by Major Gurdwaras & Sikh Organisations throughout Australia :Including, Gurdwara Sri Guru Singh Sabha Craigieburn, Australian Sikh Association Sydney, Gurdwara Baba Deep Singh Ji Blacktown, Gurdwara Sri Guru Singh Sabha Reversby, Gurdwara Sahib Sarbart Khalsa Prospect, Gurdwara Sahib Bennett Springs (Perth), Gurdwara Sahib Logan Rd Brisbane, Sikh Fedration Australia, Shiromani Panth Akaali Bhudha Dal Australia, Khalsa Shaouni Shepparton, Damdami Taksaal Australia, Akhand Kirtani Jatha Australia & many more, according to SOA.
Canada
In Canada, the British Columbia Gurdwaras Council (BCGC) and Ontario Gurdwaras Committee (OGC) issued a statement calling for Canada to "immediately suspend all intelligence, investigative and prosecutorial cooperation with India…This includes any intelligence sharing, mutual legal assistance, extradition, training exercises, consultation or any other forms of cooperation."
"In light of the acknowledgement that India was behind the political assassination of Bhai Hardeep Singh Nijjar, Sikhs across the country are calling on the Government of Canada to take immediate steps to demonstrate concrete commitments to ensuring the safety and security of Sikhs in Canada. This includes guaranteeing our ability to exercise our Charter rights by freely advocating for Sikh sovereignty and the establishment of Khalistan–without fear of violent reprisals by the Indian state. While we welcome and appreciate the official acknowledgement of India's responsibility by the Canadian Government and all political parties in Parliament and the subsequent expulsion of an Indian diplomat are important first steps, Canada's comprehensive response must reflect the gravity of India's role in the premeditated murder of a Sikh dissident living in Canada.", the statement said.
The statement called on the Canadian Government to ensure the safety of Sikhs in Canada, to demonstrate transparency in its inquiry process and to to "immediately suspend all intelligence, investigative and prosecutorial cooperation with India".
Full statement by the British Columbia Gurdwaras Council (BCGC) and Ontario Gurdwaras Committee (OGC).