India, a land known for its diverse culture, rich heritage, and vibrant diaspora, has been grappling with the issue of dual citizenship for many years. The question of whether India should embrace dual citizenship has been a matter of debate and contemplation. In this article, we will delve into India's perspective on dual citizenship and explore the views of past leaders, including Prime Ministers and Foreign Ministers, shedding light on the historical and contemporary considerations surrounding this complex issue.
Understanding Dual Citizenship
Dual citizenship, also known as dual nationality, is a legal status that allows an individual to be a citizen of two countries at the same time. Many nations across the globe permit dual citizenship, and it offers various advantages, such as the ability to enjoy the benefits and privileges of citizenship in two countries.
Historical Context:
India's stance on dual citizenship has evolved over the years. The Indian Constitution, adopted in 1950, does not explicitly provide for dual citizenship. It follows a "single citizenship" model, where an individual can only be a citizen of India and no other country simultaneously
Dual citizenship in India could offer several potential benefits for the country:
Retaining Talent: One of the most significant advantages of dual citizenship is the ability to retain highly skilled individuals who have emigrated for better opportunities abroad. By allowing dual citizenship, India could encourage these individuals to maintain a strong connection with their home country while contributing their skills and expertise to the Indian economy.
Attracting Investments: Dual citizenship can attract investment from the Indian diaspora and high-net-worth individuals (HNWIs) living abroad. These individuals, who often have significant resources, may be more inclined to invest in India if they can maintain a connection to the country through dual citizenship. This can provide a boost to the Indian economy and foster development.
Enhancing India's Global Reputation: India is emerging as a global economic powerhouse and a hub for technology and innovation. Introducing dual citizenship could boost India's global reputation by showing that the country values and welcomes its diaspora, fostering stronger diplomatic and economic ties with other nations.
Strengthening Cultural and Social Ties: Dual citizenship can help Indian expatriates and their descendants maintain strong cultural and social ties to India. This sense of connection can lead to a deeper understanding of Indian culture, history, and values, fostering a positive image of India in the international community.
Supporting Indian Students Abroad: Many Indian students pursue higher education abroad. Dual citizenship could provide them with the opportunity to explore educational and career prospects overseas while maintaining their Indian identity. This may encourage more students to return to India after completing their studies, contributing to the nation's intellectual capital.
Addressing Brain Drain: India has faced a long-standing issue of "brain drain" where highly educated individuals seek opportunities abroad and may not return. Dual citizenship can be a mechanism to reverse this trend by allowing these individuals to keep their Indian citizenship while pursuing their careers overseas.
Boosting the Indian Diaspora's Affiliation: The Indian diaspora, one of the largest in the world, can benefit significantly from dual citizenship. It would help them maintain their affiliation with India, and for their children, it could foster a stronger sense of Indian identity and culture.
Global Economic Opportunities: Dual citizenship aligns with the rise of the gig economy, digital nomad culture, and citizenship by investment trends. India can tap into these global economic opportunities by providing dual citizenship to attract highly mobile individuals seeking economic growth, better standards of living, and global mobility.
While there are benefits to introducing dual citizenship, it's essential to carefully consider and address potential challenges, such as national security and misuse of this status. Implementing safeguards, thorough vetting procedures, and a well-structured dual citizenship framework can help mitigate these concerns and ensure that the advantages of dual citizenship outweigh the drawbacks for India.
Introducing dual citizenship in India, while having potential benefits, could also come with several setbacks and challenges:
National Security Concerns: Granting dual citizenship may raise national security concerns. It could make it more difficult to monitor individuals who hold citizenship in multiple countries and may engage in activities that compromise India's security.
Legal and Regulatory Complexity: Managing dual citizenship can be legally and administratively complex. It would require establishing clear regulations, criteria, and processes for dual citizens, which can be challenging to implement and enforce effectively.
Misuse and Fraud: Dual citizenship may be susceptible to misuse and fraudulent activities, such as obtaining citizenship in India for ulterior motives, including tax evasion, money laundering, or illegal activities. Implementing safeguards against such misuse would be crucial.
Economic Implications: While attracting investments from the Indian diaspora is a potential benefit, it could also lead to challenges such as real estate speculation, pushing up property prices in certain areas, and creating housing affordability issues for local populations.
Complex Taxation: Dual citizens may be subject to tax obligations in both India and their other country of citizenship. This could lead to complexities in taxation and require mechanisms for avoiding double taxation, potentially leading to revenue challenges for the Indian government.
Migration of Skilled Workers: India could experience an outflow of skilled workers and professionals who might prefer dual citizenship to pursue career opportunities abroad, leading to a loss of valuable human resources.
Inequality and Exclusivity: Dual citizenship might be perceived as an exclusive privilege available to a select group, potentially leading to social and economic disparities between those who hold dual citizenship and those who do not.
Challenges in Implementation: Dual citizenship would require changes in the legal framework and administrative systems, which can be a lengthy and complex process. It may also entail significant costs to establish and manage the necessary infrastructure.
Dilution of National Identity: Some may argue that dual citizenship could dilute the essence of being an Indian citizen, as individuals with dual citizenship may not be as committed to the nation of origin.
Consistency and Fairness: Ensuring consistency and fairness in granting dual citizenship, especially with regard to individuals' eligibility, rights, and responsibilities, can be challenging. This could lead to debates and potential conflicts.
Legal Conflicts: Dual citizenship can lead to legal complexities, particularly when it comes to issues like legal disputes, inheritance, and property rights, as the legal systems of two countries may come into conflict.
introducing dual citizenship in India would require careful consideration of these potential setbacks and challenges, and the government would need to establish a well-thought-out framework with robust safeguards and regulations to mitigate these issues. Balancing the potential benefits with the associated drawbacks is essential in making an informed decision regarding dual citizenship.
Is Brain-drain one of the reasons?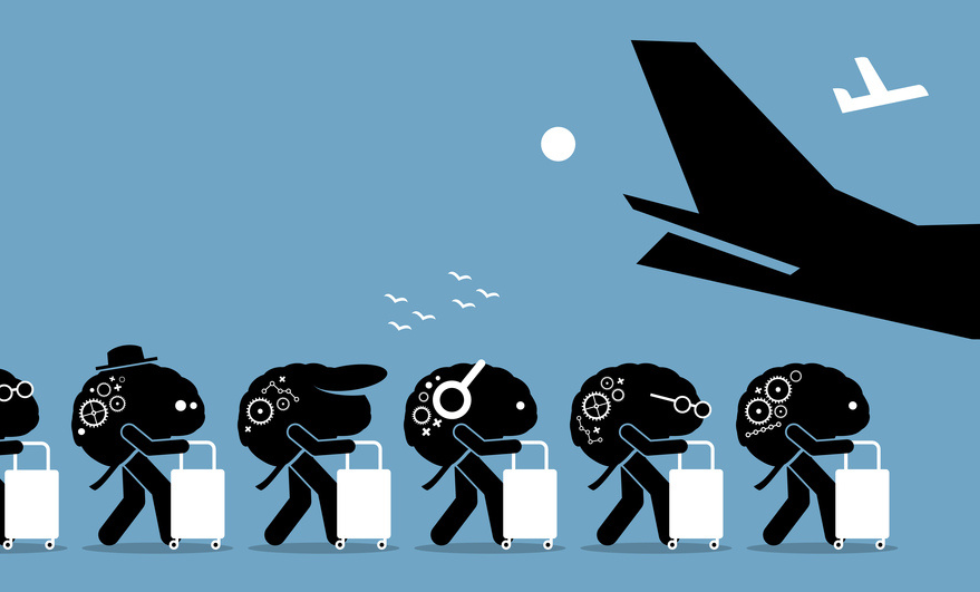 Brain drain is a phenomenon wherein highly skilled and educated individuals from a particular country emigrate to seek better opportunities and career prospects abroad, often resulting in the loss of their valuable talent to their home nation. In the context of India, brain drain has been a persistent challenge, with many of its brightest minds choosing to pursue careers in foreign countries. The introduction of dual citizenship, if not carefully managed, could exacerbate this issue as dual citizens may opt to stay abroad for more extended periods, leading to a continued outflow of talent from India and potentially hindering the nation's development and growth
Past Leaders' Perspectives:
Jawaharlal Nehru: India's first Prime Minister, Jawaharlal Nehru, believed that dual citizenship could dilute the essence of Indian identity. He emphasized the importance of Indian citizens fully committing to their nation of origin.
Indira Gandhi: Prime Minister Indira Gandhi echoed similar sentiments during her tenure. She was cautious about the potential challenges dual citizenship might pose to national security.
Atal Bihari Vajpayee: Former Prime Minister Atal Bihari Vajpayee recognized the importance of the Indian diaspora and initiated the Overseas Citizen of India (OCI) scheme. While not a form of dual citizenship, it offers certain benefits to foreign nationals of Indian origin.
Dr. Manmohan Singh: Prime Minister Manmohan Singh acknowledged the contribution of the Indian diaspora and emphasized the need for a more inclusive approach to overseas Indians.
Contemporary Views:
India's perspective on dual citizenship remains complex, influenced by concerns over national security, economic implications, and the potential for misuse. The Indian government has, on several occasions, contemplated the possibility of introducing dual citizenship, but it remains a subject of careful consideration.
Foreign Minister's Views:
Former Foreign Ministers have also weighed in on the issue:
Jaswant Singh: Former Foreign Minister Jaswant Singh, in his book "A Call to Honour," advocated for a more inclusive approach to overseas Indians. He argued that dual citizenship could strengthen the connection between the Indian diaspora and the motherland.
Sushma Swaraj: The late Sushma Swaraj, in her role as Foreign Minister, extended support for the OCI scheme and affirmed the government's commitment to the Indian diaspora.
Conclusion
India's perspective on dual citizenship is multifaceted and has evolved over time. While some past leaders were cautious about dual citizenship, others recognized the importance of connecting with the Indian diaspora. Today, dual citizenship remains a complex issue, influenced by factors like national security, economic considerations, and the desire to maintain a strong link with the Indian diaspora. As the world becomes more interconnected, India may continue to evaluate its position on dual citizenship and explore avenues to strike a balance between global engagement and national identity.