The initial lawsuit had been filed by workers of the BAPS Shri Swaminarayan Mandir, Robbinsville in the state of New Jersey almost 6 months ago.
Alleged human trafficking in the USA by Hindu sect, Bochasanwasi Akshar Purushottam Swaminarayan Sanstha (BAPS), has taken a serious turn with more cases now unravelling in four other states. The initial lawsuit had been filed by workers of the BAPS Shri Swaminarayan Mandir, Robbinsville in the state of New Jersey almost 6 months ago.
According to the amended lawsuit: "Some of the Plaintiffs also worked building and maintaining temples affiliated with BAPS Swaminarayan Sanstha and BAPS India in Chino Hills, California (a suburb of Los Angeles); Bartlett, Illinois (a suburb of Chicago); Stafford, Texas (a suburb of Houston); and/or Lilburn, Georgia (a suburb of Atlanta). "
The Prime Minister of India, Narendra Modi, has close ties to the organization and the religious head of the Swaminarayan sect, Pramukh Swami Maharaj, at whose death in 2016, the Prime Minister had paid an emotional and tearful tribute.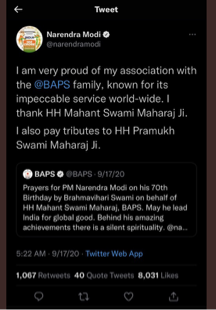 Lawyers representing these workers accused the sect of luring labourers from India to work on construction of these temples on false pretext and paying them wages that "fell well short of the federal and state minimums."
The lawsuit says, "the workers' hourly pay rate came to approximately $1.20 per hour – well below the applicable federal and state minimum wages, and in fact even less than the federal minimum wage in effect as far back as 1963."
The Federal Bureau of Investigation (FBI) is investigating BAPS for possible violations of labour and immigration laws.
The lawsuit claiming human trafficking and wage law violations was initially lodged in the New Jersey Federal Court against BAPS by workers who had been made to work 87 hours a week with very little or no time off. They claimed that security guards in BAPS uniforms kept a strict eye on them, with dire threats of wage cuts and termination of employment if they were caught talking to outsiders.
The lawsuit further states that the temple workers were brought into the country on R-1 or religious visas and presented as volunteers, trained in specialised craftmanship, like stone-carving or painting. But in reality, they claim they were forced to do manual labour for 13 hours a day, lifting heavy stones, digging ditches, building roads and storm sewers.
The workers also allege that they had their passports confiscated by the temple authorities as soon as they left the airport and were made to live in fenced-in construction sites under constant security surveillance.
The lawyers representing these workers have said that BAPS' "actions constitute forced labour, trafficking with respect to forced labour, document servitude, conspiracy, and confiscation of immigration documents in the course of and with the intent to engage in fraud in foreign labour contracting."
They were mostly recruited from the lowest rung of Indian society – Dalits and Adivasis, who are marginalised and regularly discriminated against based on archaic notions of caste hierarchy still prevalent in India. Some of the workers had been languishing under these horrific conditions for years.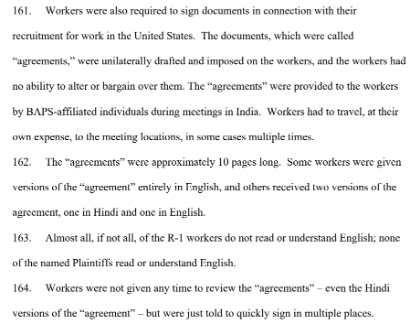 Courtesy: https://decaturlegal.com/wp-content/uploads/2021/11/0020-0-FirstAmendedComplaint.pdf
"These workers were coerced through lies to come to the United States to work and then suffered tremendously – they were basically forced into servitude," said Daniel Werner, an attorney who is representing some of the workers. "This is a horrific case of worker exploitation, and it is even more disturbing that it has gone on for years in New Jersey behind the temple's walls," he said.
Ironically, the BAPS website, states that the Mandir (temple) in Robbinsville, NJ, "like all other BAPS Mandirs, is the epitome of volunteerism and serves as a symbol to show the value of sacrificing one's time and efforts towards bettering the community. Volunteers of all ages have devoted their time and resources from the beginning: assisting in the construction work, cleaning up around the site, preparing food for all the artisans on a daily basis and helping with other tasks. A total of 4.7-million-man hours were required by craftsman and volunteers to complete the Mandir."
Bochasanwasi Akshar Purushottam Swaminarayan Sanstha, has denied any wrongdoing. New York Times quoted a lawyer for BAPS, Paul J. Fishman, a former U.S. attorney for New Jersey, saying that the federal government has routinely allowed stone artisans to qualify for R-1 visas and that agencies had regularly inspected "all of the construction projects on which those artisans volunteered."
"U.S. Government officials have authorized the use of R-1 visas for stone artisans for 20 years, and federal, state, and local government agencies have regularly visited and inspected all of the construction projects on which those artisans volunteered," Paul Fishman, an attorney representing BAPS, said in an email to The Associated Press
US Homeland Security and Labor departments have not commented on the matter. A spokeswoman for the F.B.I. told the NYT that the agency could not "confirm nor deny the existence of investigations."