Glasgow reverberated with slogans of 'Kisan mazdoor ekta zindabad', 'No farmers, No food' and 'BJP government Murdabad' on 6 November 2021 when the Kisan Morcha support group joined the Glasgow global day of Action for Climate Justice March.
The Kisan Morcha support group in Scotland has been in close touch with the Kisan Morcha group in India that is now completing a year of protests near Delhi, against what they call the hastily passed farm laws by the Indian government.
"A process that makes a mockery of the parliament and the very people it seeks to benefit and follows the familiar autocratic non consultative approach that led to the earlier disaster of the demonetisation decision.", M Khan, a doctor from India based in the UK and a founding member of the Scottish Indians for Justice (SIFJ) group, told NRI Affairs.
"People of Indian origin based in the UK have been troubled by the plight of the Indian farmers for some time now and organisations including the Scottish Indians for Justice, the Indian Workers Association, and the Communist party group have got together with the Scottish Gurudwara committees to raise our voice in support of the farmers and against the oppressive corporate friendly Indian government.", Khan said.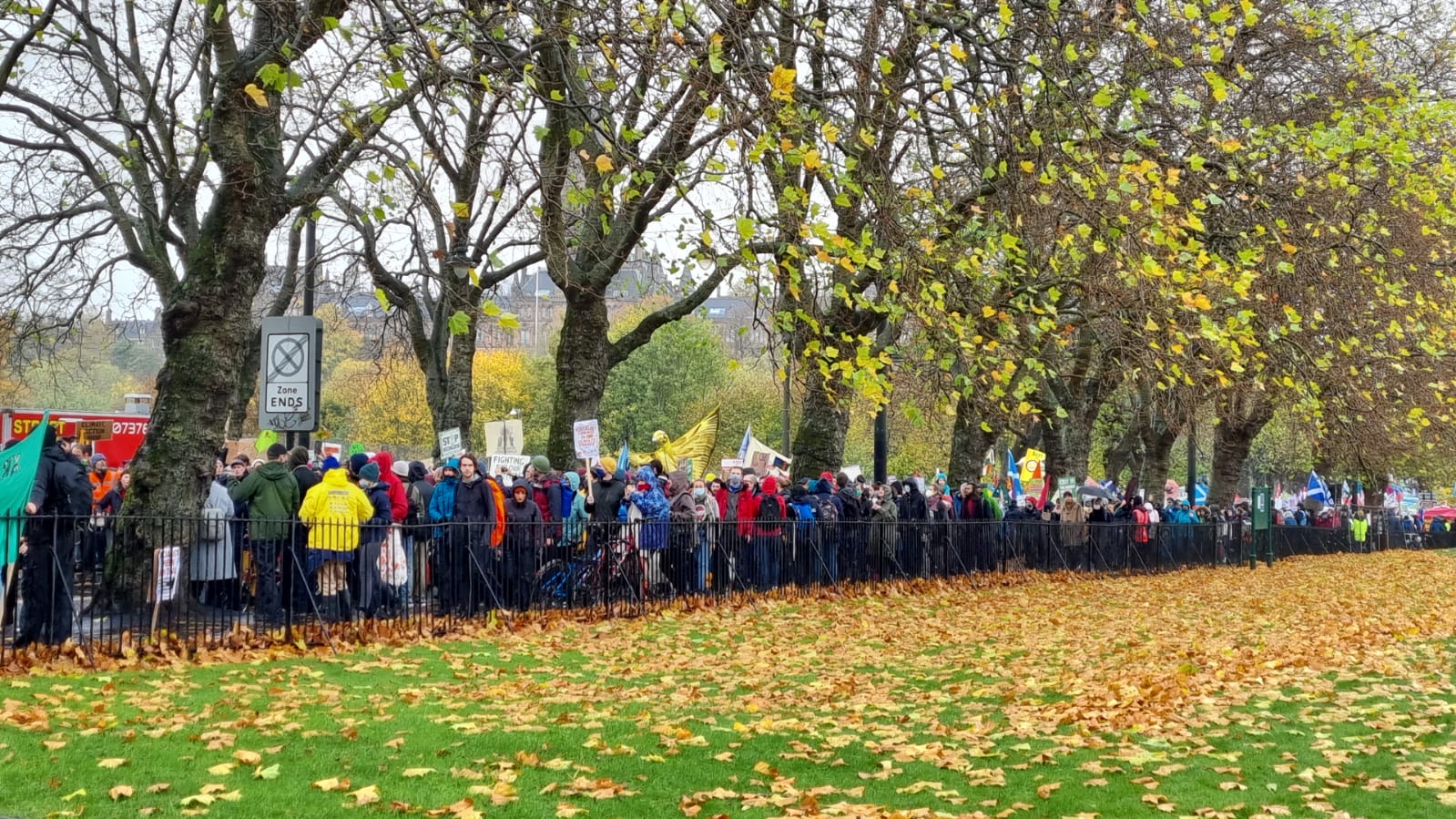 "There has been a disappointing stand from the British government in terms of failing to raise the right questions to the Indian Prime Minister Narendra Modi particularly at this sensitive time of the Climate change conference hosted in Glasgow. The protest organised on the 6th of November where we joined local farmer groups was to raise more awareness that, while there are empty slogans raised by Prime minister Modi and vague promises made, the policies on the ground are designed to ensure the exact opposite! Deforestation continues on a big scale; mining licences continue to be handed to crony capitalists including the Adani group against whom there are several ongoing protests in Australia for the devastation that is likely from their coal mining operations in Australia", a statement by the organisers of the rally said.
The Action for Climate Justice March, of which the Farmers group was a prominent part – with Indian drums and Scottish bagpipes and loud slogans, drew about 100,000 protestors, who gathered together on a windy rainy autumn day in Glasgow at Kelvingrove park and marched through the streets of Glasgow on a 5 kilometre route to Glasgow Green, where prominent activists like Greta Thunberg addressed the gathering and encouraged the protestors to continue raising their voice until the unjust laws and unfair policies change.
UK locals and other men and women of the Indian diaspora joined in the protest, which brought various communities in the United Kingdom together for a common cause.
"Scottish Indians for justice will continue to stand for all oppressed people and support all just causes, with a firm belief in Martin Luther King's statement: 'Injustice anywhere is a threat to justice everywhere'," Khan said.