A Sydney court today sentenced Vishal Jood to a prison term for his role in a series of violent assaults in Sydney's west.
Vishal Jood, arrested in April for the acts of violence, was today sentenced to twelve months in prison by a Parramatta Local Court in Sydney. The sentence carries a six-month non-parole period. The judge, in his determination, took into account Jood's character, his clean prior record and his health. Jood appeared via a video link in a blue t-shirt and did not speak a word at the sentencing hearing.
Jood, having already served 4 months and 17 days of his sentence, will become eligible for parole on 15 October.
Jood pleaded guilty to three of the charges, including 'assault', 'occasioning actual bodily harm in company of others' and 'armed with intention to commit indictable offence', while the other charges were dropped by the Crown.
Jood's lawyer, in his defence, told the court that Jood comes from a farmers' family from a place where Hindus and Sikhs co-exist 'in peace'. He argued that Jood's action was spontaneous, out of fear and there was no evidence that it was motivated because of the victim's Sikh faith. He also mentioned Jood's personal circumstances, his good character and his health. He added that Jood was a "kind and helpful person otherwise".
The magistrate noted that Jood is "still relatively young and a well respected member in the community" and his "prospects of rehabilitation are very good". Regardless, he added that it was one of the burdens of living in the society to not to succumb to provocation. He said that the urge to pick up an object and strike someone, especially when they are down on the ground, must be resisted. Such behaviour cannot be condoned, the magistrate added.
Jood had been arrested on 16 April and charged with three counts of affray, three counts of armed with intent to commit indictable offence, two counts of destroying or damaging property, and assault occasioning actual bodily harm in the company of other(s).
Jood had last appeared before the court on August 12 via video conference when the court had set a new hearing date of 27 January 2022 for 10 out of 12 charges, and of 31 January 2022 for the rest of the charges.
The issue has made news headlines in India where it has been alleged Vishal Jood was acting to protect the Indian flag from being dishonoured by 'Khalistanis'. The Haryana Chief Minister had intervened in the matter and written to India's Foreign Minister to get Vishal released. In a tweet, CM's office wrote, "CM @mlkhattar spoke to External Affairs Minister, Shri @DrSJaishankar for immediate release of Vishal Jude, a Haryanvi youth lodged in Australia's jail & appealed for immediate intervention in the matter. The Foreign Minister has conveyed India's concern to the Australian Embassy".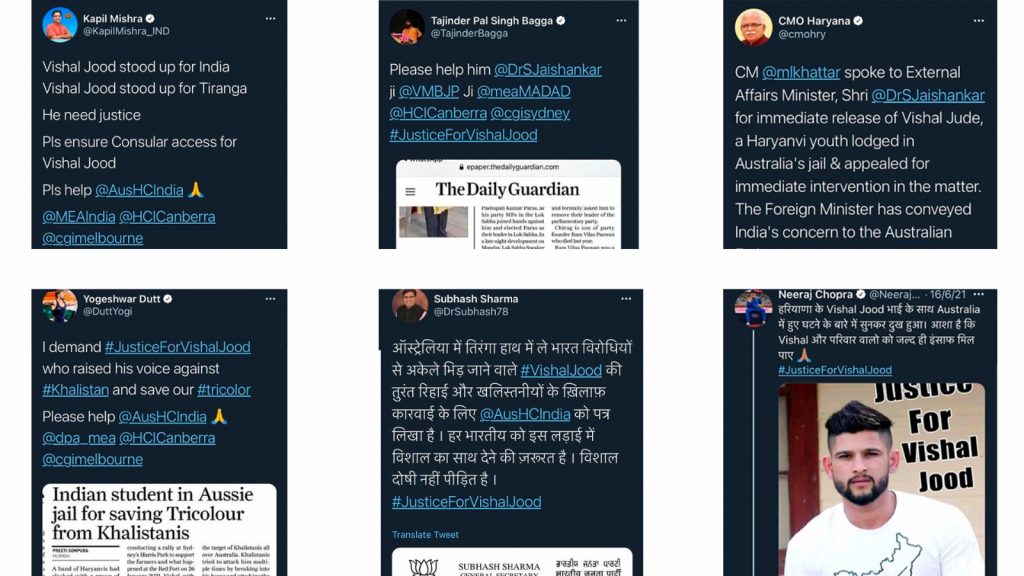 A group of Jood's Harvanvi community members in India, with the support from political leaders, had carried out a campaign demanding Jood's release.
At the time of his arrest, Jood was reported to have been living in Australia under an expired visa.
Supporters had cited Jood's nationalism and his defence of the Indian flag as the reason for his arrest and asked for consular support from the Indian Government to assist Jood with his court case.
Among the political leaders who tweeted in support of Jood were Bharatiya Janata Party leader Kapil Mishra, Tejinder Pal Singh Bagga, BJP's spokesperson from Delhi and Dr Subhash Sharma, BJP General Secretary, Punjab.
Olympian wrestler Yogeshwar Dutt, who is also from Haryana, was also among the public figures who tweeted in support of Jood, as was Neeraj Chopra who later went on to win a gold medal at the Tokyo Olympics.