For Shirin, the recent turn of events in India brought back memories of her childhood in Delhi.
Apart from the staff of Shankar's International Dolls Museum in Delhi, I must have been its most frequent visitor till date. I am not kidding when I say that I must have visited that magical home of thousands of dolls on average once a month for a couple of decades.
It was among my favourite places to go to after school or during the weekend. In fact, I am very grateful that it existed, along with the Natural History Museum in the general area where my mother worked and my dad had meetings. Had it not been for these two places, I would have been extremely bored while my parents did their work.
Shankar's International Dolls Museum is in what used to be called the "press area" due to a number of newspaper buildings on the street, including the Indian Express, Times of India, Hindustan Times, etc. The museum was established by the legendary Indian cartoonist Shankar (Kesava Shankar Pillai) who also set up the Children's Book Trust which was among the first institutions in independent India to produce literature for children. The museum's entrance fee was totally affordable, it was clean, safe and airconditioned but most of all, it was fascinating!
When I close my eyes and think of the Dolls Museum, so many vivid images come to my mind. There were dolls doing specific Indian dances – Kathak, Bharatnatyam, Bhangra, Bihu, Kathakali and so on. Some of them moved their heads and bodies like real dancers. When I had the chance to take my cousins or friends to the museum, I would excitedly explain to them how the movement mechanism worked through smart construction by the doll makers. I had figured it out by spending hours in the museum.
Then there were dolls from Japan. Their kimonos and fans transported me to a world that I had never been part of. It made me curious to find out about Japan. I borrowed books from my school library and made it a point to go see a puppet production from that country when I discovered it was coming to Delhi. Later, in university abroad, I was excited to meet students from Japan and learn directly from them about their culture and history. Some friendships have lasted all these years.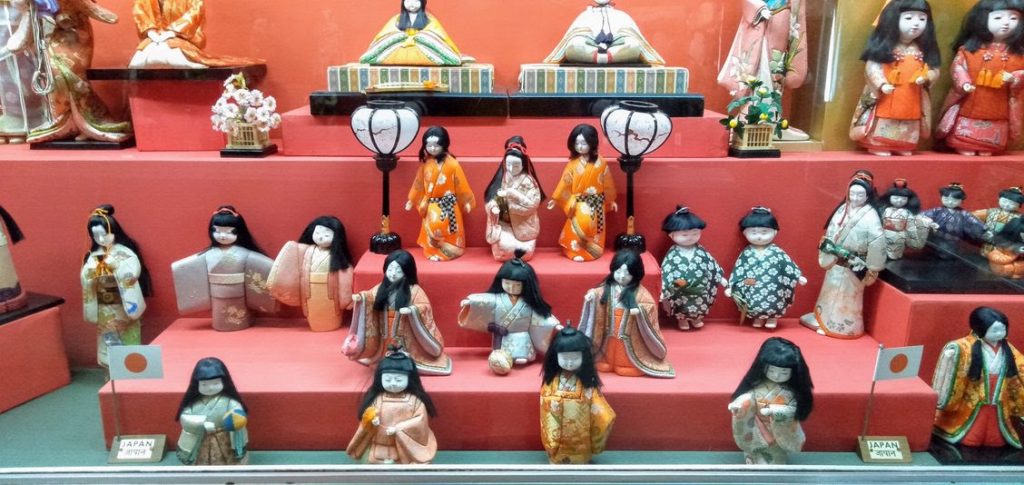 The museum had several dolls that had darker skin than mine and many dolls that had lighter skin than mine. The hair also was diverse. I had never met a young white person with hair that was white and silver. But some dolls from northern Europe introduced me to this feature. They were young girls with hair that looked like my grandmother's. It was shiny white. At first, I was a bit confused. I thought to myself how can a young person have such white hair but when I researched, I found out that there is something called melanin and also genes and other factors that cause hair colours to differ in different parts of the world depending on sunshine, etc.
Now I know much more than I did then. As a peace educator, I teach classes on diversity, including the diversity in skin colours (that also mainly happens due to melanin content). Back then, I did not know all this but it gave my brain new visuals. I had not met or seen many Black people in those days. To see dolls from many countries of Africa made me appreciate the variety of human beings existing in the world – it made me realize that I was part of a much larger world.
What fascinated me the most was the clothing, jewellery and the little things the dolls held – for example, farming tools, musical instruments, baskets, bags and so on. The doll makers from India and different parts of the world had put in so much effort to bring these dolls to life. I saw Indian dolls in sarees, shalwar-kameez, serongs, lungis, kurtas, dhotis, pants, shirts, turbans, caps, dupattas and jackets.
I had no idea then that there will come a time when we won't be able to envision any doll who could wear a hijab because doing so would go against reality. Girls who wear hijab cannot go to school now. Women who wear hijab cannot teach any more. How did that happen?
Sometimes simple explanations are the most accurate. I think that those who issue orders which take away the rights of people because they are different are from a restricted world. Such people and those who support them have narrow minds and hearts because their world is restricted. It is small. They have never seen the real world which is spectacular with so many different colours of not only skin and hair but religions, ideologies and ways of living.
Shankar's International Dolls Museum is not the world but it certainly gave me joy, curiosity and the realization of being part of something very big – the world itself! I wish that those who support any policy and action of apartheid anywhere in the world, wake up and step outside their narrow world of uniformity and fascism. Their small world is making our big world suffer.
Let us stop this suffering by standing up to hate and bigotry. Peace Needs All of Us! I urge you to join Good Things Happen Too if you are on Facebook. I also leave you with a fun peace education activity to do – our new quiz which I hope you will share with at least one more person: Genetics and Peace.
Follow NRI Affairs on Facebook and Twitter for latest updates. Support us on Patreon.