In a recent turn of events, India has shown disagreement with the methodology used by World Health Organisation in estimating the mortality rate caused by the deadly Coronavirus. The statement issued by the Indian Ministry of Health and Family Welfare suggested that India's objection has not been with the results but rather the methodology adopted for the same.
The Indian Health Ministry responded to a New York Times article titled "India Is Stalling the WHO's Efforts to Make Global Covid Death Toll Public" dated 16th April 2022, which claimed that India's toll is at least 4 million against the government's tally of around 520 thousand as of Saturday, i.e 16th April 2022.
According to the Ministry, concerns were shared through a series of formal communications that included issuing six letters to WHO and holding virtual meetings. During these exchanges, specific queries have been raised by India along with the other Member States e.g. China, Iran, Bangladesh, Syria, Ethiopia and Egypt regarding the methodology, and use of unofficial sets of data.
Concerns:
"The concern specifically includes how the statistical model projects estimates for a country of geographical size & population of India and also fits in with other countries which have a smaller population. Such a size fits all approach and models which are true for smaller countries like Tunisia may not be applicable to India with a population of 1.3 billion," stated Union Health Ministry.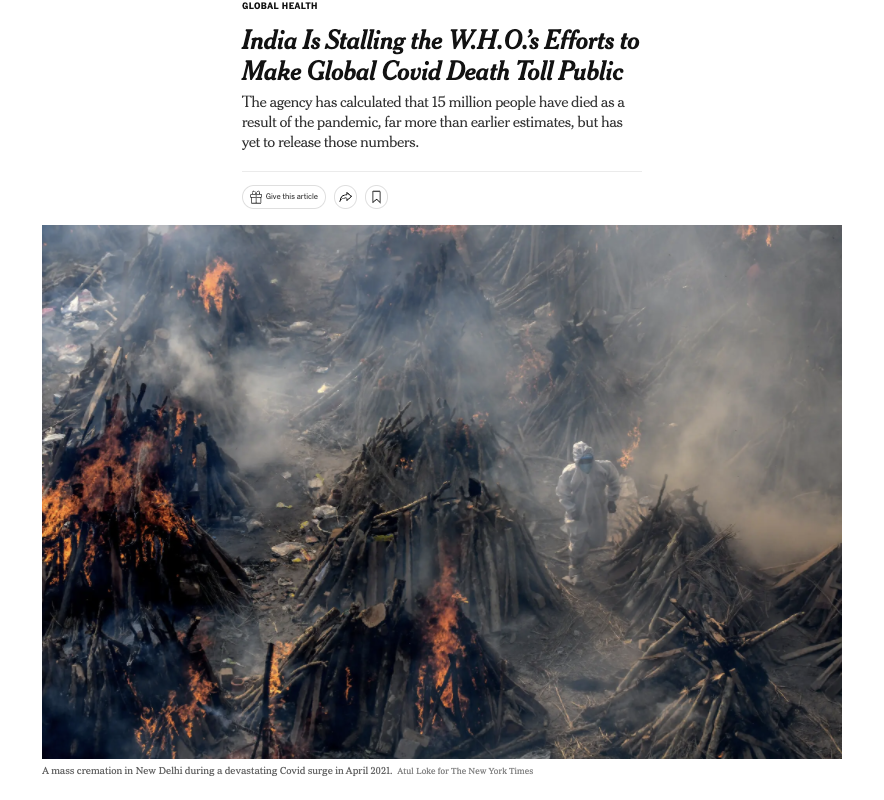 Further, the Ministry claims that the model gives two highly different sets of excess mortality estimates when using the data from Tier 1 countries and when using unverified data from 18 Indian states. Such a wide variation in estimates raises concerns about the validity and accuracy of such a modelling exercise.
Global Health Estimates pose a confusion:
According to the Ministry, the Global Health Estimates (GHE) 2019 on which the modelling for Tier II countries is based, is itself an estimate. The present modelling exercise seems to be providing its own set of estimates based on another set of historic estimates while disregarding the data available with the country. It is not clear as to why GHE 2019 has been used for estimating expected deaths figures for India, whereas, for the Tier 1 countries, their own historical datasets were used when it has been repeatedly highlighted that India has a robust system of data collection and management.
In view of this, the ministry stated that in order to calculate the age-sex death distribution for India, WHO determined standard patterns for age and sex for the countries with reported data (61 countries) and then generalized them to the other countries (incl. India) who had no such distribution in their mortality data. Based on this approach, India's age-sex distribution of predicted deaths was extrapolated based on the age-sex distribution of deaths reported by four countries (Costa Rica, Israel, Paraguay and Tunisia).
"The test positivity rate for Covid-19 in India was never uniform throughout the country at any point in time. But, this variation in covid-19 positivity rate within India was not considered for modelling purposes. Further, India has undertaken COVID-19 testing at a much faster rate than what WHO has advised. India has maintained molecular testing as the preferred testing method and used Rapid Antigen for screening purposes only. Whether these factors have been used in the model for India is still unanswered," said the Union Health Ministry.
Follow NRI Affairs on Facebook and Twitter for news about overseas Indians. Support us on Patreon.