In the runup to the 2022 Federal Election, Australian politicians have spared no move, promise, gimmick or appeal, to court Indian-Australian voters who make up the second-largest migrant community in the country today. But fissures and factions within the Australian-Indian community are laying bare the pitfalls of a campaign that is yet to note the diverse nature of India's population.
A video is doing rounds on social media where Australian Prime Minister Scott Morrison is seen responding to questions about Turban for Australia founder Amar Singh. Liberal candidate for Parramatta Maria Kovacic can also be seen sitting on the stage behind the Prime Minister. A person from the audience suddenly quips that the Khalistan group and Mr Amar Singh have been associated with Maria Kovacic, and "we can't support that."
This is one of the many examples where Indians have commented on candidates about their associations with specific Individuals or organisations of Indian origin. Indian diaspora has never been more important in an Australian federal election. Not just Liberal and Labor parties, but candidates from Greens, One Nation and other smaller parties and independent candidates have also tried to appeal to the vast Indian and South Asian diaspora to influence their opinions and procure votes.
Wooing the voters
Labor and Liberal parties have made announcements particularly targeting Indian migrants. Take for instance, the labour Candidate for Parramatta who has promised $3.5 million to turn the cultural precinct around Wigram and Marion Streets in Harris Park in NSW "into a dazzling tourism hub celebrating Australia's South Asian communities."
The candidate Andrew Charlton says, if elected, he will work with the community, the City of Parramatta, and local businesses to develop the precinct and build a better future for all. "This commitment is a terrific result of Harris Park – and it's all part of my strong plan for our future. We will work with the community, the city of Parramatta and local businesses to develop the precinct and build a better future for all," he said.
On the other hand, the Liberal party has promised the Hindu Council of Australia $250,000 for upgrading their 'Karma Kitchen' program.
Liberal candidate for Parramatta, Maria Kovacic, said, "I know the last few years have been particularly challenging for all Australians, and the wonderful work the Council are doing here in Western Sydney, is providing real support to our community. I hope the funding from the Morrison Government will go a long way in supporting more Australians in times of need."
Sydney's renowned business owner of Indian origin, Sanjay Deshwal, says politicians from both parties have visited the Indian community here more times in the past two weeks than any Federal MP has done in the last 18 years.
This significant rise in interest in the Indian and South Asian diaspora is not coincidental. According to Honorary Professor in the School of Communications in the Faculty of Arts and Social Sciences at the University of Technology Sydney Devleena Ghosh, the primary reason is the increase in immigration from India, and the consequent growing community numbers, which have pushed the politicians into taking the community seriously.
"Also, the knowledge that the Indian diaspora is mostly educated and wealthy. Moreover, it is seen as conservative, which is not necessarily true. Second generation Indians (born in Australia) can be quite progressive. However, politicians who have a genuine rather than instrumental interest in the Indian community would be aware of the fact that Indians cannot be conflated with Hindu. India is very diverse in faith, ethnicity and language. Australian politicians have been treating the community as if it were a homogeneous whole, meeting with mainly Hindu groups and ignoring people of other faiths who are also of Indian background," said Professor Ghosh.
Fault Lines
Along with this unprecedented attention, the Indian community's fault lines have also been laid bare like never before. Infighting, badmouthing and complaining about other groups and organisations have also been frequently noticed. After Harris Park's Little India Australia business body extended support to Parramatta's Liberal candidate Maria Kovacic last week, many of its members made it clear that they do not support the Liberal candidate.
At the event held at Harris Park, Little India Australia president Gurmeet Tuli said the business owners of Harris Park would support Liberal candidate Maria Kovacic in the upcoming federal elections.
However, Parag Shah, a member of Little India Harris Park Business Association, said when he compares the two leading candidates, he finds Andrew Charlton's plans more alluring. Shah has made it clear though that he would not support any candidate as a board member of the association. "Andrew Charlton personally sat down with all the business owners, took their feedback and then came up with a plan. He has promised five things, and l personally like his idea of installing Indian structures around the area. Whereas, when we asked Maria Kovacic, she honestly said she had no plan so far. In any case, being a board member of the association, I cannot endorse any candidate. I would like the people to decide independently," Mr Shah told NRI Affairs.
Parag Shah also said the visible division among the community members is not good because all of us are interested in the welfare of the community and the country.
Business owner Sanjay Deshwal, on the other hand, finds Liberal policies better. "I think every business owner likes Liberals' policies. The way they supported us during the last and the toughest years of our lives was unprecedented. Australia was an example for the whole world. We never feared for our lives, for resources," he told NRI Affairs.
He feels infighting over whom to support in an election is childish. "Us sitting here in Australia and fighting over our differences due to Modi and Congress is childish. It is entirely our opinion," he said. Deshwal is of the view that the division visible in the Australian-Indian community is broadly based on the political division between Bhartiya Janta Party (BJP) supporters and the rest. For example, Amar Singh, one of the most famous persons of Indian origin in Australia and an award winning social worker, has been the target of Hindu groups since he supported the Indian farmers' movement in 2021. Many so-called Hindu organisations in Australia support India's ruling party, the BJP and its leader Narendra Modi. The BJP advocates Hindutva ("Hindu-ness"), an ideology that strives to define Indian culture in terms of Hindu values.
'Shameful and not good'
An "active and concerned member" of the Indian Australian community, Dr Yadu Singh says there is a widening and undesirable division in our community based on many factors.
"These factors include political affiliations (Australian as well as Indian politics) and religions. We are getting bitterly divided based on the political issues from India. This division extends to even the media platforms in the community. The division between LW (Left Wing) and RW (Right Wing) persuasions of people in our community is now personal, bitter and destructive. It has become so intense that some people ignore the common Indian heritage of their adversaries and actually hate them due to these factors. They approach the employers of their adversaries or target their adversaries' businesses to harm them in their employment and livelihood," Dr Singh told NRI Affairs.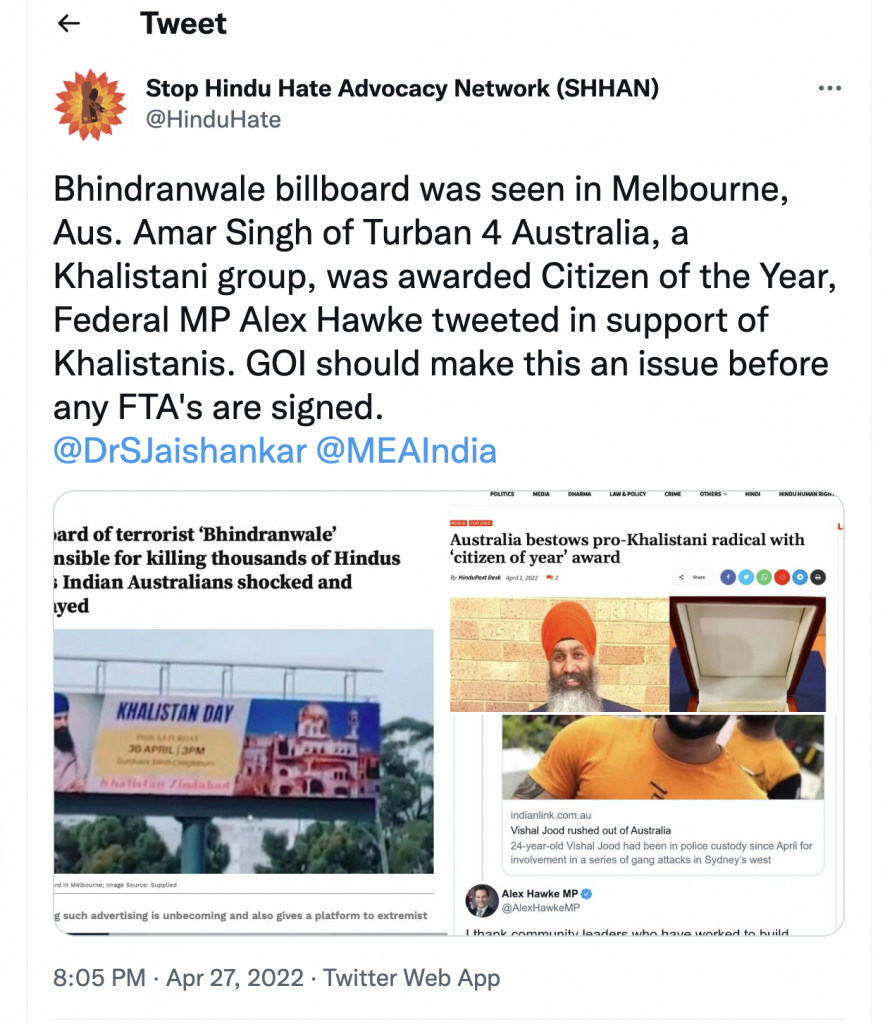 "We have already seen many such examples and many more are likely to happen affecting people from both sides. Victims of this disgusting activity will not come from only one side. When discussions within the community either directly or with using of the good people might have solved the issues, we see legal notices floating around in the community due to minor reasons and often at the behest of their political masters. When we should be joining hands to raise funds to help the poor and disadvantaged people in Australia and India, we are collecting funds to fight legal issues and notices. This shows our stupidity. This is shameful and definitely not good for the social health, cohesion and the progress of our community in Australia.
"In my view, this undesirable trend in the community is a manifestation of the supremacy and the attempt to control the views in the community. LW (left wing) operatives just like RW (right wing) operatives want to control the views in regard to various social dimensions and political life of the community. Sadly, many such operatives are guided and possibly controlled by their political masters in India and in Australia," added Dr Singh.
"In my view, people need to recognise that everyone has a right to hold and express a view. Diversity in views and opinions is better than uniformity in these matters. We are not living in a dictatorial society like North Korea. It's despicable and totally undesirable that people are now attacking their adversaries in their employment and business. It's equally despicable to troll people in social media due to a dislike of a person as it affects reputation and mental health of the victim of such trolling. If this is not controlled, it may become a basis for Police action including AVO against such harassment," he noted.