This is a film about a band of feisty, Dalit women journalists who strive to keep up with changing technologies to run their news network, Khabar Lahariya.
Writing With Fire, Rintu Thomas and Sushmit Ghosh's feature documentary and the first-ever Indian documentary to make it to the list of five Oscar nominees, is a film about the phenomenon behind Khabar Lahariya, India's only newspaper run by Dalit women. The film has won close to 30 awards since its release in January 2021, including Audience and Special Jury awards at the Sundance Film Festival. It has also won awards at the San Francisco, Krakow, Molodist, Seattle, Wisconsin and Washington film festivals.
The film had its Melbourne premiere at the Human Rights Arts & Film Festival, held at Sun Theatre, Yarraville recently.
Rintu and Sushmit are independent film makers in India and have made many short non-fiction documentaries for over 10 years. They stumbled upon a haunting photograph of a woman distributing newspapers in Uttar Pradesh and decided to embark on their first feature documentary. They journeyed to the village where these remarkable women came from and were invited to attend a meeting where Khabar Lahariya's Managing Editor Meera Devi tells her fellow team members that they should shift from print to digital media in order to survive in this changing world. The expressions of excitement, uncertainty, fear and determination that they witnessed on the faces of the women in the room began to spin an irresistible and impossible tale that was crying out to be told.
Their cameras started rolling at this point and continued to be a part of the women's journey for the next four years.
The Washington Post has called it "The most inspiring journalism movie – maybe ever."
"Rousing…nothing short of galvanising," according to The New York Times and The Hollywood Reporter has described it as "Insightful and inspirational". In fact, Writing With Fire has struck a chord with everyone who has seen it.
The 93-minutes-long documentary is a story of breaking traditions by a band of determined women, in the backdrop of a fiercely patriarchal and casteist society that has always dominated Indian psyche, especially in the villages of UP in north India. What comes to the fore is the intense resolve of a marginalised and mostly ill-treated section of Indian society as they discard centuries-old regulations that few have dared to tread on so far.
In an interview with online news site Deadline, Sushmit Ghosh spoke about the woeful representation of both women and lower castes in Indian media:
"In India, more than 90 percent of all editorial positions in broadsheets as well as broadcast are anchored by people from positions of privilege or who are upper caste, and primarily men," he said. "So, when you have a news organization that is led primarily by Dalit women, the nature of news making completely changes."
The documentary shows us how the women journalists learn to use smartphones, record interviews, ask difficult questions, face hostile environments all day, in a state notoriously infamous for violence on women – their struggle is palpable, but their enthusiasm never wanes. Within the confines of their homes, family members question their priorities, duties and their choice of profession, but they are back next morning bumping along in an auto rickshaw along the dusty roads of UP to 'break' the next big story.
They find stories in homes of "untouchables", who are forced to live outside main dwelling areas of villages. They report on things that others avoid in today's India – like water scarcity, broken roads, lack of basic medicines, sanitation, electricity and the unreported, hushed up deaths in illegal mines. Rapes are hard to report on, but they push on, because it matters to them.
The smiles that light up their faces when their reporting has an impact is a sight to behold.
The audience accompanies the reporters of Khabar Lahariya as they go about their day, noting the unglamorous surroundings, the expressions of ludicrous mockery on some faces, hapless devastation on others as they relate their stories to the women journalists.
One brilliantly presented scene that jolts the audience is that of Meera standing behind a tripod with her smartphone placed precariously on it, as she interviews a member of Hindu Yuva Vahini, a Hindutva outfit nurtured by UP chief minister, Yogi Adityanath.
The dingy, dark room has a single bed on which the slender young man sits with photos of Hindu gods and goddesses hung on the wall behind him. He says that he wants to join politics and the best avenue to do that is through gau raksha (cow protection) and chanting 'Jai Shri Ram' to intimidate minorities in the village.
Meera then asks him to display his sword to the camera.
The scene that follows is a telling moment in India's current situation. The jobless young man smiles as he draws his sword from its sheath, his saffron scarf worn lightly around his neck. Sushmit Ghosh and Rintu Thomas' skills lie in demonstrating to the audience not only the thoughtless slide of the country towards bigotry amidst economic ruin but also the significance of this being recorded by a Dalit woman reporter.
The documentary shows the rapid rise in viewership of Khabar Lahariya's YouTube channel as it grew from 1 million to 141 million in four years thanks to their purposeful use of smartphones. Their success as journalists asking difficult questions of the state government have been noted, applauded and abused too. Their work demonstrates bravery in the face of adversity, not letting fear, uncertainty or trepidation stop them from doing their work. And as Meera said, in her region, a Dalit woman journalist was unimaginable; but over the past 14 years they have managed to change that perception.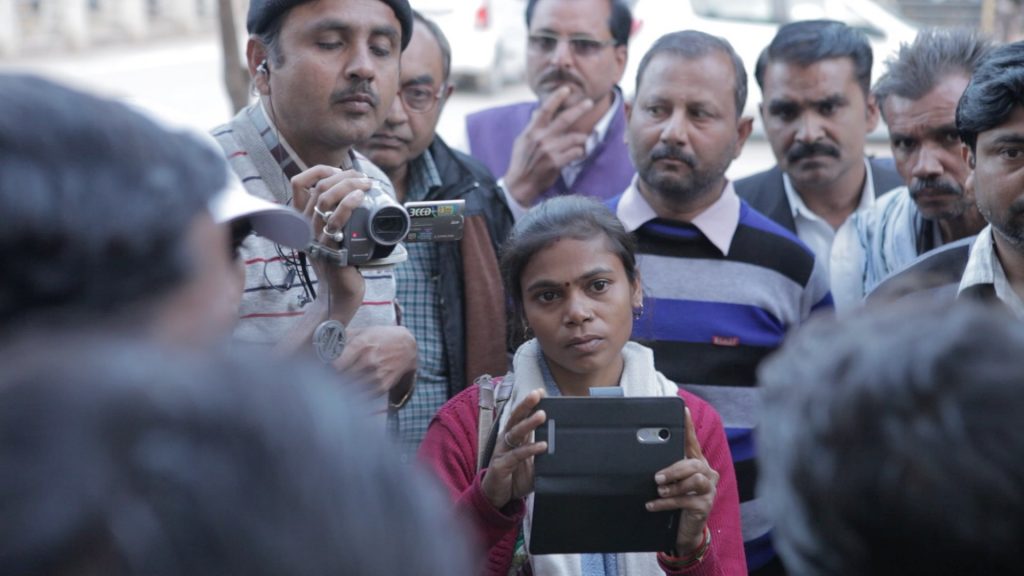 The documentary also shows us a glimpse of their happiness as they, the Dalit women journalists of Khabar Lahariya, go on a team-trip to Kashmir and play around in the snow, their routine responsibilities set aside for a few days – with painted lips, colourful clothing and cheerful eyes, they drink in the magical beauty of the mountains and lakes around them.
The commitment and dedication of Meera Devi, the dogged perseverance of Shyamkali Devi and the spirited obstinacy of Suneeta Prajapati and the entire team to soldier on despite the greatest of odds, gives this documentary an edge-of-seat feel along with an ephemeral glimmer of hope. It would be wrong to assume that things are getting any easier for them even today – their lives perpetually fraught with gender and caste-related violence, humiliation and contemptuous treatment at the hands of those born as upper castes.
Writing With Fire is a film about what democracy should look like and it is demonstrated by the people democratic India has failed the most. Sushmit and Rintu have captured this irony quite brilliantly. What lingers on after the film ends is the sweetness of the women and their constant efforts to cope with the circumstances they are presented with every day. They accept their roles as mothers, daughters and wives but they also display a mature and stubborn determination to do something different with their chosen field of work. India needs many such ventures of nonconformity, small steps that achieve big things, so that one day this oppressive shroud of inequality, that decides one's opportunities in life, could be shrugged off, where hopes and aspirations could once again begin to have some meaning.