Tiny baby in arms, husband fighting for his recovery in a hospital bed, and no resources to support; life could not have been more challenging for Sharanjit Kaur.
Sharanjit Kaur is raising funds for her 27-year-old husband, Nishan Singh, who is fighting for his life in Royal Adelaide Hospital after a road accident.
Kaur has posted an appeal on Facebook to raise funds for his treatment.
Clickhttps://www.facebook.com/donate/289316862862280/?fundraiser_source=external_url here for the Fundraiser page
According to Kaur's appeal, Nishan Singh had a road accident last month near Fowlers Bay.
READ: Qantas to launch a new service to Delhi in December
"He was working as a truck driver driving MC Truck from Brisbane to Perth and Perth to Brisbane. Unfortunately, on 19/09/2021, when he was driving to Perth, he met with a huge accident near Flowers Bay South Australia," reads the appeal.
According to Sharanjit, Nishan Singh sustained multiple fractures to his right arm.
She posted, "He also lost all the top skin, muscles, tendons of his right arm from elbow to wrist."
Sharanjit and Nishan arrived in Australia in 2018 for higher studies.
"I was studying, and he was working. Then in December 2020, we had a baby," writes Sharanjit.
READ: Extend visas for people stuck overseas during pandemic, Greens demand
"Due to COVID, our family could not come from India to support us with baby. I had to quit my job, and my husband was the only earning member in our family. He also financially supported his family back home as his father passed away last year, and he is the only son."
Sharanjit says Nishan needs multiple surgeries as he has significant trauma to his right arm.
"This injury is quite severe and will significantly impact Nishan Singh's ability to undertake activities of daily living and ability to work whilst he undergoes further management of his injuries and maybe long term rehabilitation," she writes.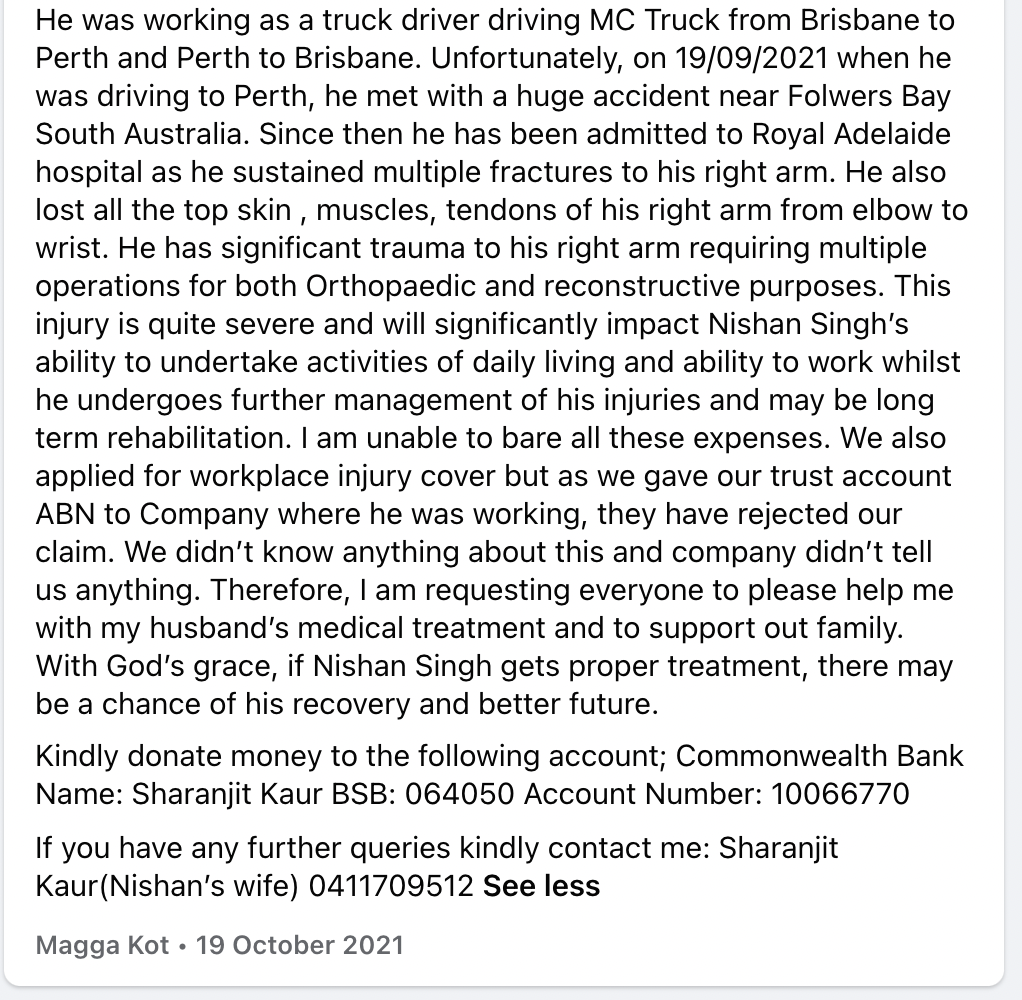 The situation is overwhelming for this young family.
Sharanjit claims, "I am unable to bear all these expenses. We also applied for workplace injury cover, but as we gave our trust account ABN to Company where he was working, they have rejected our claim."
"We didn't know anything about this, and the company didn't tell us anything."
Sharanjit's only hope is Nishan Singh's recovery.
She says, "I am requesting everyone to please help me with my husband's medical treatment and to support our family. With God's grace, if Nishan Singh gets proper treatment, there may be a chance of his recovery and better future."