I have been writing against the authoritarian Indian Prime Minister Narendra Modi on social media for the past nine years. Recently, after a chance to walk alongside Rahul Gandhi, the most prominent leader of the Indian opposition, during his Bharat Jodo Yatra in January, and to attend three of his Silicon Valley diaspora events in May, I was asked more than once to write about him. Having long missed all my requested deadlines, I realized that it was more difficult to write about Rahul Gandhi than about Modi. Modi is easy to read, as he constantly hits the most primitive registers of the human psyche with his messages of fear, hate, and violence. His bald-faced lies and distortions of facts reveal his unspoken (unspeakable!) wants and desires more clearly than words ever could. A lack of education combined with an uncontrolled bravado expose his hollowness and highlight his incompetence, making him a poster child for the Dunning-Kruger effect. He is predictable as any other dictator, following the destructive script that looks the same across the globe, and spans centuries in its stagnancy. It is all on the surface, and is so laughably simplistic that there is rarely the danger of missing any nuance or minimizing any complexity.
Rahul Gandhi, on the other hand, is deep and multifaceted. The little I have seen of him up close reveals a man who can mingle with, elevate and empower the ordinary, while being able to effortlessly win the admiration, trust, and respect of the distinguished. It is not so much his words as his actions that describe him, and his actions flow, not as a result of wilful self-construction, but as a natural response to his surroundings of a person rooted in strong moral standards, humility, and love for the people he wishes to serve. It is no ordinary love, when one chooses to dedicate one's life to a cause that is as seemingly intractable as India, when that cause takes all that is humanly possible to give for years on end without reward or recognition, when it has cost one the lives of one's father and grandmother, shattering one's childhood. It is a love that demands self-discipline, courage, intelligence, an unshakable integrity, and an ocean of compassion towards those who suffer. The question is much less whether Rahul Gandhi deserves to lead India, than whether India deserves to be led by one such as him.
Watching Modi wreck a progressive, secular democratic India while living in a Trump-wrecked USA has undoubtedly been the most distressing experience of my life as a citizen and as a parent. Notwithstanding their many parallels, the US was able to show Trump the door after four years in office, while India's flirtation with fascist ideologies has continued, granting Modi a second term in 2019. Modi2.0 has been bolder, brazenly pursuing the politics of self-enrichment at the cost of the people, while openly spewing communal venom to win the support of India's Hindu majority. In the midst of this, many like me, who care for India's syncretic social fabric and have been invested to various degrees in its epic fight against poverty, sought consolation in the Shaheen Bagh protests, the greatest of the worldwide protests that broke out after the Modi Government forced the unconstitutional and discriminatory NRC and CAA regulations through the Indian parliament. These regulations were declared by Genocide Watch to bear clear parallels with the 1935 Nuremberg Laws. When the historic Shaheen Bagh protests were being quashed in New Delhi in March 2020, I had just become part of a nascent online fasting chain that went on to be kept alive for 1000 continuous days by over 75 fasters all across the globe. We posted messages of protest on social media every day of our fast, keeping the voice of love, compassion and togetherness alive in what felt like an endless government-sponsored cacophony of hate. Our protests covered the 2020 NE Delhi pogrom, the Kashmir lockdowns, the migrant crisis, the unjust targeting of the BK-16, the Government's COVID mismanagement, youth unemployment, the year long farmer's protests, and the constant targeting and harassment of Muslims, Christians, and Dalits in Modi's India, documenting the exceptionless tyranny of Modi's BJP Government. The advent of the Bharat Jodo Yatra infused us with a hope that felt more sustainable against the BJP's constant onslaught, and Rahul Gandhi's voice finally promised some sanity on a national stage. After 1000 continuous days of fasting, we felt that the Indian social narrative was in good hands finally, and we could put to rest a responsibility to protest that was getting heavy for just 75 individuals to bear.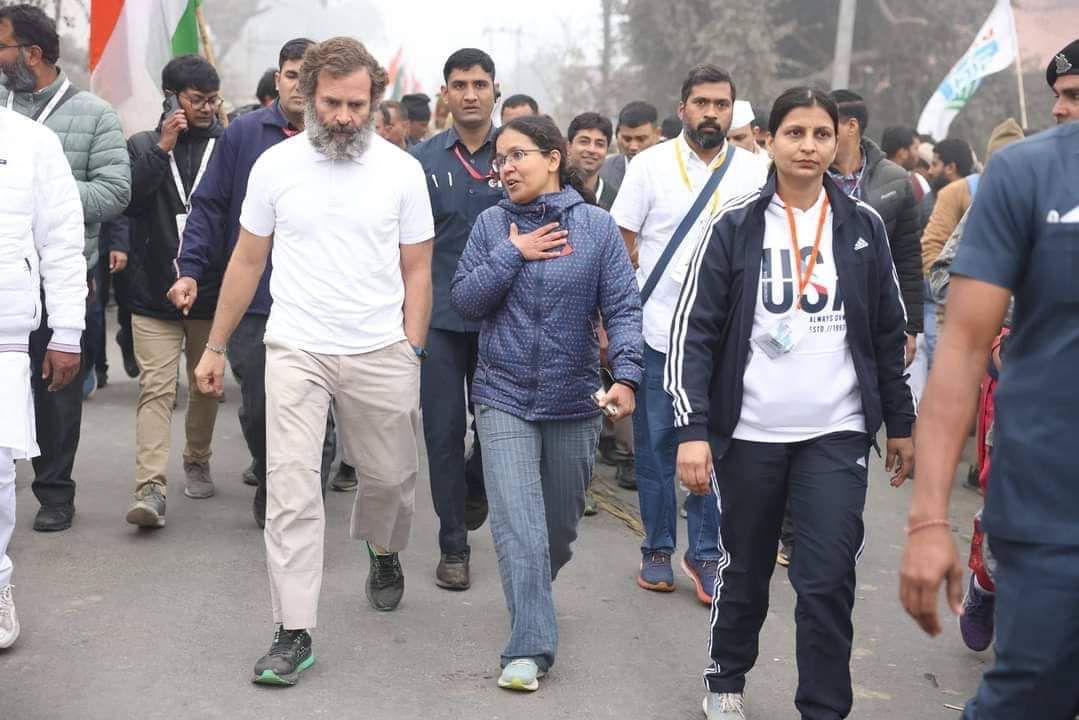 So when I joined the Bharat Jodo Yatra in early January, I was eager to see for myself if the voice of the people was really in good hands. The two days I walked with Rahul Gandhi were eye-opening. The Yatra seemed to bring together the teeming diversity of India under a common transformative umbrella. Everyone seemed comfortable in their own skin, while being caring and respectful towards others. It did not have the slick, choreographed feel of Modi's mega-events, yet it was exceptionally well organized, managing the daunting tasks of logistics, safety and outreach in a relaxed and congenial atmosphere. Like in our fasting chain, this was a physically demanding declaration of love that celebrated the diversity of our nation – I saw that the walkers were men and women not only of all religious, caste and class backgrounds, but also all ages and physical abilities. I met a man who was unable to tie his own shoelaces because he had stunted arms, but that did not hold him back. There were people in the Yatra who had joined it in the south, but were unprepared for the increasing winter chill as the Yatra proceeded northward. Members of the Yatra regularly chipped in to make sure poorer fellow walkers had appropriately warm clothes and good footwear. This bonhomie balanced the rigors of a 25 km daily walk that started at the crack of dawn every morning. There was a shared sense of purpose, and an abundance of love and caring that created a healthy space for candid criticism: I was surprised when a woman on the sidelines threw herself at Rahul Gandhi, pretending, unsuccessfully, to cry. Disregarding the political mileage he could have drawn from the scene, Gandhi did not hesitate to sternly call her out on the drama, but gave her a reassuring hug anyway before marching on ahead.
This act took me aback, because it was something new: the lack of guile or political calculus in his interactions with people around him stood out in sharp contrast to the politically strategic mission of the Bharat Jodo Yatra. It worried me a bit at first, because his political opponents were bound to pounce on instances like this to label him a political Pappu (politically clueless). But the more I have seen of him, the more I am convinced that this is his way of mastering the hardest part of public life: remaining true to oneself while devoting oneself to a cause that is much larger than an individual. I now see hints of Mohandas K. Gandhi, who dared to experience the lived reality of India by dressing in what would evolve to the loin-cloth when the world demanded an immaculately tailored suit to be considered a serious statesperson. "First they ignore you, then they laugh at you, then they fight you, then you win."
The next time I saw Rahul Gandhi was May 30, hardly four hours after he had arrived in California on a nearly day-long flight from Delhi. It wasn't at all clear he was going to make it here. Members of the BJP Government, having already stripped him of his home and diplomatic passport following his disqualification (on overblown charges) in March as a member of the Indian parliament, had sought to deny him an ordinary passport until May 28, on the grounds that "The right to hold a passport, like all other fundamental rights, is not an absolute right and is subject to reasonable restrictions imposed by the Government in the interest of national security, public order, morality, and prevention of crime." And yet, he betrayed nothing of the ordeal as he spoke of his love for the people of India, his trust in the wisdom of ordinary Indians, and of their innate ability to resonate with the truth. He spoke at all times with candor and equanimity, neither fazed by difficult questions, nor carried away by the adulation that inevitably followed. He did not play down the problems that plague India, but it never seemed to extinguish the hope and dreams he has for its people. He spoke deeply knowledgeably on hot button issues like children's welfare, meaningful educational reform, women's safety, protection for the caste oppressed and minorities, unemployment, economic growth, technological innovation and international partnerships, but also bucked current political trends to speak of the basic values that are crucial to repair the tattered Indian social fabric: humility, mutual affection, and a trust in one's innate talents and abilities. India accounts for a rising sixth of the global human population in an increasingly interdependent world. The international community is an inevitable stakeholder in India's future, and should be unhesitatingly invested in this vision of a stable, self-assured, peaceful India. The alternative would be a belligerent theocratic oligarchy of a scale that will pose a serious impediment to the collective march of humanity towards a peaceful, harmonious and meaningful coexistence.
On his US trip, Rahul Gandhi cut the picture of a man who was in no rush to flaunt his political wizardry. He didn't have to – his genius was in plain sight. It was overshadowed only by the audacity of his vision for India, borne of truth, love, and the will to bring sustainable justice, empowerment, and equal opportunity to a people hungry for progress.