Indian Food Abroad: The aroma of freshly baked naan, the tantalizing sizzle of tandoori spices, and the vibrant colors of aromatic curries – these sensory experiences instantly transport us to the heart of India, a land of culinary treasures. For NRIs, the allure of Indian cuisine extends beyond borders, becoming a cherished link to their heritage and cultural identity.
Food, as a universal language of culture, plays a pivotal role in preserving traditions and fostering connections. For NRIs, maintaining a connection to their culinary roots becomes a journey of adaptation, innovation, and sharing, as they navigate the culinary landscape of their adopted homes.
Preserving Traditions: From Desi Kitchens to Global Plates
Indian cuisine has its roots in the Indus Valley Civilization, one of the world's earliest urban societies. The region's people were already cultivating grains, vegetables, and spices, which formed the foundation of Indian cuisine. The arrival of Islam in the 8th century brought new culinary influences, such as Mughlai cuisine, a fusion of Persian and Indian traditions. This period also saw the development of tandoori cooking, a technique that has become synonymous with Indian cuisine.
European colonization in the 16th century introduced new ingredients and cooking techniques to India, such as chilies, potatoes, and tomatoes, and tea and baking techniques. These additions further enriched the diversity of Indian cuisine, creating regional variations that reflect the unique cultural and geographical influences of each region. As Indian diaspora spread across the globe, they carried their culinary traditions with them, introducing Indian dishes to a wider audience.
In this culinary journey, we will explore the remarkable journey of Indian cuisine from its humble origins in Indian kitchens to its global acclaim. We will delve into the regional variations, the culinary influences, and the stories of individuals who have played a pivotal role in shaping the global perception of Indian food. Join us on this gastronomic adventure, discovering the rich tapestry of flavors, traditions, and stories that make Indian cuisine a culinary celebration of diversity, adaptability, and enduring cultural heritage.
NRI Food Memories: A Culinary Journey of Nostalgia and Cultural Connection
Across the globe, Non-Resident Indians (NRIs) carry with them a treasure trove of memories, woven together with the vibrant threads of their homeland. Among these cherished recollections, food stands out as a powerful narrative, a symphony of flavors and aromas that transport them back to their roots.
For me, the mere mention of Indian food conjures up a kaleidoscope of images and emotions. The sight of freshly baked naan, its golden surface blistered from the tandoor's heat, evokes the warmth of family gatherings and the boisterous chatter of loved ones. The tantalizing aroma of biryani, its fragrant spices mingling with the basmati rice, sparks memories of festive occasions and the joy of sharing a communal meal.
Food, in its essence, is more than just sustenance; it is a cultural ambassador, a bridge that connects us to our heritage and identity. For NRIs, who have ventured beyond the shores of their homeland, food becomes a lifeline, a tangible reminder of the traditions and flavors that have shaped their upbringing.
The familiar taste of a home-cooked meal, prepared with the same love and care as it was back home, can instantly transport an NRI back to their childhood kitchen. The sight of their mother skillfully kneading dough for parathas or the rhythmic chopping of vegetables for sabzi can evoke a flood of nostalgia, a longing for the simple pleasures of home.
Food also serves as a powerful tool for maintaining cultural connections among NRIs. Sharing traditional dishes with friends and family, whether at potlucks or community gatherings, becomes a way to celebrate their heritage and strengthen their bonds. The act of cooking and sharing these meals not only nourishes the body but also nourishes the soul, fostering a sense of belonging and community.
Beyond its role as a cultural connector, Indian food holds a deep emotional significance for NRIs abroad. The familiar flavors and aromas can trigger a surge of emotions, evoking feelings of comfort, joy, and nostalgia. A bite of a samosa can transport them back to the bustling streets of their hometown, while a spoonful of dal can remind them of their grandmother's loving embrace.
For NRIs, Indian food is more than just a culinary delight; it is a symbol of their identity, a source of comfort, and a bridge connecting them to their roots. It is a tapestry woven with threads of nostalgia, tradition, and emotion, a testament to the enduring power of food to connect us to our past, present, and future.
Indian Food Abroad: Recreating Home in Foreign Kitchens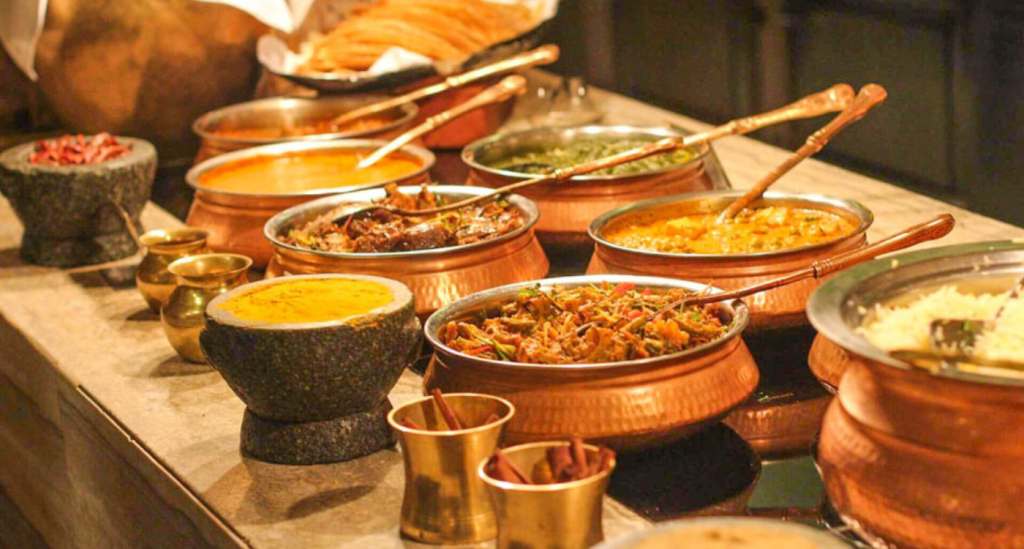 Non-Resident Indians (NRIs) worldwide are passionate about reviving the flavors of home through culinary endeavors. However, replicating traditional Indian dishes in foreign kitchens presents unique challenges such as limited access to authentic ingredients, unfamiliar cooking utensils, and adapting to local tastes. NRIs have devised creative strategies to bring the taste of India into their homes, such as substituting locally available ingredients and adapting traditional recipes.
One key aspect of NRI culinary endeavors is the art of ingredient substitution. They can overcome the absence of fresh fenugreek leaves by using dried fenugreek seeds or ginger powder, or replicate the texture of paneer using tofu or ricotta cheese. They also experiment with using local vegetables like zucchini or butternut squash instead of traditional Indian counterparts.
NRIs often lack access to traditional Indian cooking utensils, such as tandoor ovens, pestles and mortars, and specialized pressure cookers. To overcome these limitations, they have embraced innovation and resourcefulness, such as using grill pans as makeshift tandoors or food processors for grinding mortar and pestle action.
Preserving culinary traditions and family recipes is a central theme in NRI culinary experiences. These recipes hold sentimental value and evoke memories of family gatherings and special occasions. Preserving culinary traditions goes beyond nostalgia; it is a way of maintaining cultural identity and passing on a legacy of flavors and techniques to future generations. NRIs diligently teach their children the art of preparing traditional Indian dishes, ensuring the culinary heritage remains vibrant and alive.
Sharing Flavors, Building Bridges: Cross-Cultural Culinary Encounters
Food serves as a universal language that transcends cultural boundaries and fosters friendships. As an NRI, People have the opportunity to connect with people from diverse backgrounds through Indian cuisine. One memorable experience involved an American group who eagerly learned about Indian cooking. We enjoyed the vibrant flavors and techniques of Indian cuisine, chatting effortlessly and discovering common interests. Another heartwarming encounter occurred at a local community center where People volunteered to teach an Indian cooking class, involving participants from China, Mexico, and Italy.
Despite their diverse backgrounds, they were united by their curiosity and enthusiasm for learning new culinary techniques. As we prepared dishes like butter chicken, biryani, and samosas, we exchanged stories about our respective cultures and traditions. The language of food broke down barriers, allowing us to connect on a personal level and appreciate the richness of our diverse culinary heritage. These experiences have reinforced my belief in the power of food to bridge cultural gaps and foster meaningful connections. Sharing the flavors of Indian cuisine has not only introduced others to my cultural heritage but also allowed me to learn about their traditions and perspectives.
Navigating New Flavors: Embracing Culinary Adaptation in a Foreign Land
Here is the content for the section on adapting to foreign ingredients and cooking methods:
Lessons in Adaptation
Venturing into a new culinary landscape often presents a myriad of challenges, but for NRIs abroad, adapting to foreign ingredients and cooking methods has been a journey of triumph and personal growth. Amidst the unfamiliarity of new flavors and techniques, NRIs have demonstrated remarkable resilience, resourcefulness, and a willingness to embrace change.
Embracing New Flavors
The first encounter with foreign ingredients can be both exciting and daunting. NRIs have faced the task of sourcing unfamiliar spices, navigating unfamiliar produce sections, and deciphering cryptic labels in foreign languages. Yet, with each new ingredient encountered, NRIs have embarked on a culinary adventure, expanding their palates and culinary horizons.
Adapting Cooking Methods
Adapting to foreign cooking methods requires a willingness to experiment and learn. NRIs have embraced new techniques, from mastering the art of stir-frying to navigating the complexities of different types of ovens. They have learned to substitute ingredients when necessary, adjusting recipes to suit local availability.
Triumphs and Personal Growth
The challenges of adapting to a foreign culinary landscape have led to unexpected triumphs and personal growth for NRIs. They have discovered new flavors, expanded their culinary repertoire, and developed a deeper appreciation for the diversity of cuisines worldwide.
Resilience and Resourcefulness
NRIs have demonstrated remarkable resilience and resourcefulness in their culinary adaptations. They have sought advice from local cooks, explored ethnic grocery stores, and even cultivated their own herb gardens to overcome ingredient limitations. Their creativity and determination have allowed them to recreate the flavors of home despite the challenges they faced.
A Culinary Odyssey: Reflections and Future Prospects
The diverse experiences of Non-Resident Indians (NRIs) in preserving, adapting, and sharing Indian food abroad are a testament to the power of food to transcend borders, connect cultures, and shape personal identities. As we reflect on the culinary journeys documented in this book, we recognize the profound impact these adventures have had on the collective narrative of Indian food abroad.
For many NRIs, the aroma of freshly baked naan or the tantalizing sizzle of tandoori spices instantly transports them back to their homeland, evoking memories of family gatherings, celebrations, and the comforting familiarity of home-cooked meals. Replicating these cherished flavors in foreign kitchens becomes a labor of love, a way to maintain a connection to their cultural heritage and pass on culinary traditions to the next generation.
The journey of preserving Indian food abroad is not without its challenges. Sourcing authentic ingredients, adapting to local tastes, and navigating unfamiliar culinary landscapes require resourcefulness, creativity, and a deep understanding of both Indian and local culinary traditions. Yet, it is precisely these challenges that have sparked innovation and inspired NRIs to push the boundaries of Indian cuisine, creating fusion dishes that appeal to a wider audience while retaining their unique Indian identity.
The impact of these culinary adventures extends far beyond the realm of taste. For many NRIs, the process of preserving and sharing Indian food abroad has been instrumental in shaping their personal identities. It has fostered a sense of belonging, connected them to their roots, and allowed them to express their cultural heritage in a way that is both meaningful and accessible.
As we move forward, the future of Indian food abroad is bright with possibilities. NRIs continue to play a pivotal role in introducing Indian cuisine to new audiences, showcasing its diversity, adaptability, and global appeal. Culinary entrepreneurs are establishing innovative restaurants, fusion food concepts, and culinary education initiatives, bridging the gap between traditional Indian cuisine and the evolving tastes of international palates.
In conclusion, The culinary journey of NRIs abroad is a testament to their resilience, adaptability, and creativity. They have not only preserved their culinary heritage but have also enriched the global culinary landscape with their innovative creations and fusion dishes. Food, for NRIs, is more than just sustenance; it is a symbol of cultural identity, a source of comfort, and a bridge connecting them to their roots. Their culinary adventures abroad serve as a reminder of the power of food to unite, inspire, and create lasting memories.