Daleep Singh, Biden's Deputy National Security Advisor for International Economics, is the great grandnephew of first Indian American Congressman.
Daleep Singh, a senior Indian American advisor to US President Joe Biden, is leading the US sanctions against Russia and President Vladimir Putin's inner caucus set off by Russia's roguish behaviour in Ukraine. He told White House reporters on February 22, that no Russian financial institution is safe if Moscow attacks Kyiv.
Working for the government runs in Singh's family. His great granduncle, Daleep Sing Saund, was the first Indian American to serve in the US Congress from 1957 to 1963.
Daleep Singh, who is the current deputy National Security Advisor at the National Security Council and deputy director of the National Economic Council in the White House, appeared at the White House press briefing Tuesday, for the second time in four days, to outline Biden's response to Putin.
Follow NRI Affairs on Facebook and Twitter for latest updates. Support us on Patreon.
"Russia's long-previewed invasion of Ukraine has begun and so, too, has our response, Today, the President responded swiftly and in lockstep with Allies and partners," he Singh.
"In previous sanctions regimes, it took weeks and months to mount a decisive response. This time, we announced our first tranche of sanctions in less than a day and in lockstep with Allies and partners in the European Union, the United Kingdom, Canada, Japan, and Australia," said Singh.
"We've demonstrated the potency of our financial sanctions. And make — make no mistake: This is only the sharp edge of the pain we can inflict."
"This was the beginning of an invasion, and this is the beginning of our response." He said that the actions that were taken on Tuesday we only the "first tranche".
"If Putin escalates further, we will escalate further using financial sanctions and export controls, which we've yet to unveil but which are fully prepared to implement with Allies and partners across the world," Singh declared to reporters present at the White House briefing.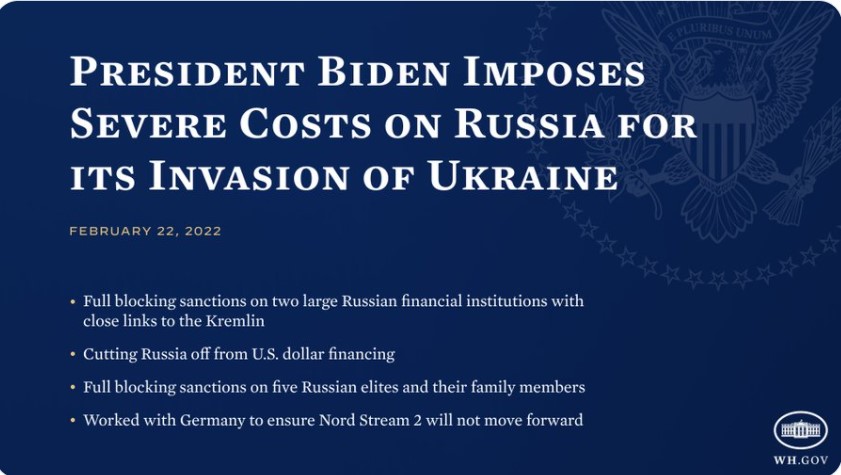 Russian President Vladimir Putin on 21 February recognised Donetsk and Luhansk as independent from Ukraine, and also sent Russian troops into the two separatist-controlled regions for "peacekeeping".
Australia also announced restrictions targeting Russian transport, energy and telecommunications sectors. Further, they imposed travel bans and targeted financial sanctions on eight members of the Security Council of the Russian Federation. Japan, too, imposed sanctions suspending visa issuance and freezing assets of select individuals linked to recognizing the independence of Donetsk and Luhansk.
Born in Olney, Maryland and raised in Raleigh, North Carolina, Daleep Singh joined Biden's team of senior advisors in February 2021 after leading New York Federal Reserve's Markets Group and its launch of emergency facilities in response to Covid-19. He has served during the Obama administration as well, working at the US Department of Treasury and serving as acting assistant secretary for Financial Markets and deputy assistant secretary for International Affairs, from 2011 to 2017.
Before joining the Treasury Department, Singh worked for Goldman Sachs, with a focus on US interest rates and currency markets, from 2003 to 2007, and again from 2008 to 2011. He was also a partner at Element Capital Management from 2007 to 2008. He has also worked as Senior Partner and Chief US Economist at SPX Capital, a global investment firm, from 2017 to 2019.
Singh holds a bachelor's degree from Duke University in economics and public policy. He went on to complete a Master of Business Administration/Master of Public Administration from the Massachusetts Institute of Technology, and Harvard University, with a focus on international economics. He is a former adjunct senior fellow at the Center for New American Security and the Atlantic Council. He has also been an adjunct professor of geo-economics at Johns Hopkins School of Advanced International Studies.