India wrapped up their campaign at the Tokyo Paralympics with the largest-ever haul of 19 medals, surpassing their previous best tally of four at the 2016 Rio Games.
Japan bid adieu to Paralympic Games with a glittering closing ceremony at the Olympic Stadium in Tokyo on Sunday. The ceremony began with a montage of shots of the Games, followed by music and dance performances. The concepts for the Closing Ceremony were "Harmonious Cacophony" and "Moving Forward". The closing ceremony conveys that Tokyo is "A City Where Differences Shine".
Ahead of the athlete parade, the Japanese national flag was brought into the venue and the national anthem of the country was played. It was followed by the parade led by flag bearers of different countries in Japanese alphabetic order. Shooter Avani Lekhara was the flag bearer of Indian contingent. The 19-year-old trailblazer had two podium finishes in Tokyo.
This year, the Indian contingent won five gold, eight silver and six bronze. While Lekhara won a gold in R-2 women's 10m Air Rifle Standing SH1 event and a bronze in 50 metre Rifle 3 Position SH1, Javelin thrower Sumit Antil, shuttlers Pramod Bhagat, Krishna Nagar and shooter Manish Narwal bagged a yellow metal each.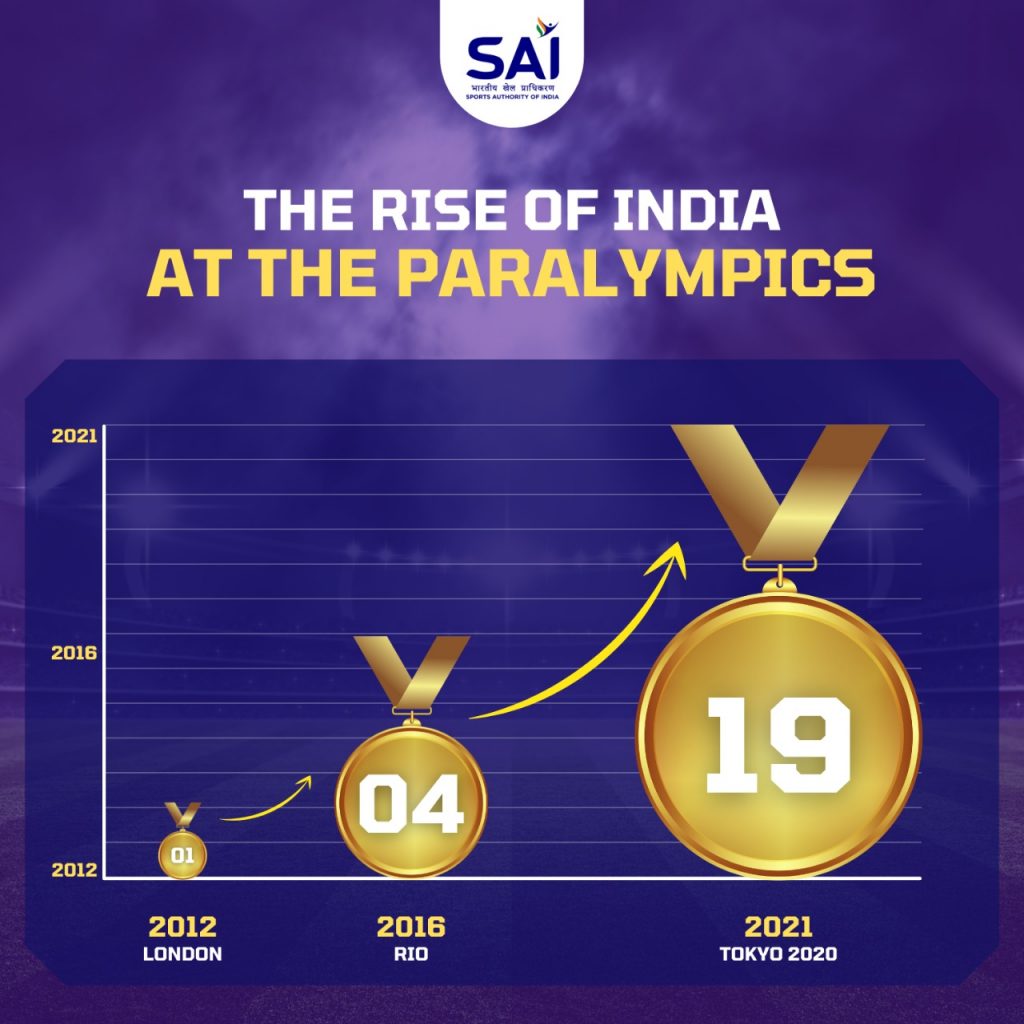 The records made by the Indian medallists are as follows: –
Sumit Antil – World Record in F64 Men's Javelin (Gold)
Avani Lekhara – Equalled the World Record and made a Paralympic Record in R2 Women's 10m Air Standing SH1 (Gold)
Manish Narwal – Paralympic Record in P4 Mixed 50m Pistol SH1 (Gold)
Nishad Kumar – Asian Record in Men's High Jump T47 (Silver)
Praveen Kumar – Asian Record in Men's High Jump T64 (Silver)
A few Indian para athletes missed out on medals. Swaroop Unhalkar (Para Shooting, Sandeep Chaudhary, Soman Rana, Navdeep (Para Athletics) and Tarun Dhillon (Para Badminton) finished fourth in their events, while Sakina Khatun (Para Powerlifting), Ram Pal, Amit Saroha (Para Athletics) and Rahul Jakhar (Para Shooting) finished fifth.
India sent its highest ever contingent of 54 para athletes across as many as 9 sporting disciplines. Badminton and Taekwondo made their debut in Tokyo, both of which were represented by India
Since making its first appearance at the Paralympics in 1968, India had won 12 medals in total till the 2016 Rio edition. It has now drastically improved upon that entire number by 7 medals at the Tokyo Paralympics 2020 alone
Out of a total of 162 nations, India has finished 24th in the overall medal tally, while its accomplishment of 19 medals is ranked 20th based on the number of medals