Foundation The London Story (TLS), a registered Human Rights defender organisation, based in The Netherlands, has recently published the first of its three-part investigative research, which recommends that Facebook should be shut down in India for its failure to curb hate speech and cause deep polarisation of society.
"In light of the findings of this report and additional data that we have reviewed, we have no doubt in saying that Facebook should be shut down in India. The company has put its profits ahead of the lives of millions of Muslims in India who constantly live in a fear of persecution because of Facebook and WhatsApp-propagated rumours and hate, " the report entitled, Face of Hatebook, says.
According to TLS, it is unacceptable that a social media giant like Facebook/Meta spend just 13% of its allocated funds for fighting hate speech on its platform in non-US countries.
"What is in Facebook algorithms that hate gets so widely promoted? Facebook needs to allow independent auditors to check their algorithms, " says the study.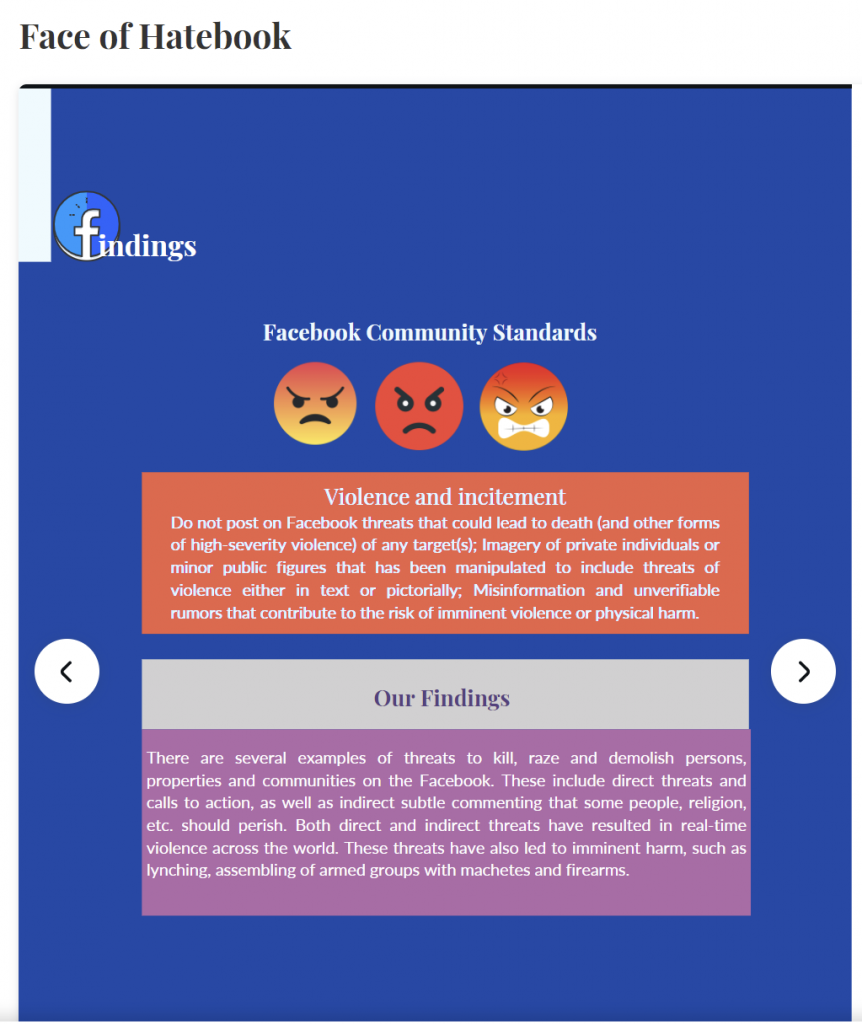 According to the researchers working on the project, it was not difficult to locate hate speech on the platform.
"We used specific keywords to identify Facebook groups that post Anti-Muslim and Pro-"Hindu Rashtra" (Hindu nation) narratives on Facebook…Based on these key words, we identified over 400 active Facebook groups and sampled content from those with most users and posts per day. Our concern is not only the amount of interaction these groups have generated, but also the complete impunity of the group admins, " they said.
According to TLS, Facebook gives platform to these groups that continuously post hateful content about Indian Muslims, calling them inferior, immoral, violent and sexual predators. The posts are allowed to stay on and shared by thousands with access to social media.
"We have contacted Facebook directly with our previous findings and have also provided inputs for human rights impact assessment. Due to Facebook's failure to moderate its own platform, despite clear evidence of hate speech, we think it's really important that we try to reach a wider global audience," says TLS co-founder Ritumbra Manuvie.
"The remaining two parts of our report will follow shortly. The second part identifies few of the preachers of hate on Facebook and the third part looks specifically on the misogynistic narrative of love jihad," she said.
Between 2018 and 2020, several red flags have been raised by Facebook employees with regards to violent content and misinformation being allowed on its platform in India. These internal memos are a segment of a discussion between employees and senior executives of Facebook, that have recently been disclosed by former Facebook employee and whistleblower, Frances Haugen.
In her latest attack on her former boss, Haugen has called on Mark Zuckerberg to step down for the betterment of the company and society at large. She said this at the Web Summit Tech Conference in Lisbon earlier this month.
"Facebook would be stronger with someone who's willing to focus on safety," Manuvie said.
With close to 400 million Facebook users, India is a huge commercially viable market for the social media company, who also own other platforms like WhatsApp and Instagram.
The report published by TLS harps mainly on the atmosphere of violence in India being perpetuated with the help of Fabebook and their stubborn stance of non-compliance of adequate safety measures.
"By allowing such massive amount of hate and vitriol, Facebook is not just complicit in dehumanizing Indian Muslims, it should also share responsibility for creating an atmosphere of fear in India. We repeatedly reported content shared in this report to Facebook. However, the automated moderation process of Facebook repeatedly told us that the content is not in violation of any of the community standards. Several of these posts were also submitted for human review, yet the posts remained on the platform."