An Air India Express passenger has shared his agonising experience at Singapore airport.
The passenger, Narendra Prasad, says he was supposed to fly from Singapore to Chennai with Air India Express on 28 April at 17.00.
"Initial update from Airport says flight retimed to 17.40," posted Mr Prasad.
"Then we got multiple updates like boarding flight (detour to Kuala Lumpur) @ 6.15. Asked us (to) report back again @7.00 because departure (has been) postponed to 8.00."
According to Mr Prasad, around 8.45 pm, the plane arrived, but the passengers did not get any update until 9.25 when some passengers lost their temper and started arguing with the staff.
Mr Prasad writes the staff said the boarding would start in five minutes; therefore, "all the children and elder parents came with enthusiasm" in line for boarding.
However, after waiting for almost one and a half an hour in line, "it was a complete mess" as the passengers were the flight had been cancelled.
"Despite all this, the crew never once apologised," claims Mr Prasad.
"They were arrogantly shouting… SSSSHHH and calm down."
"Some people were crying about their inability to attend their relatives' funerals. Some of them were shouting for their desperate needs to attend medical emergencies," he posted, adding that many old people were pleading for an alternate.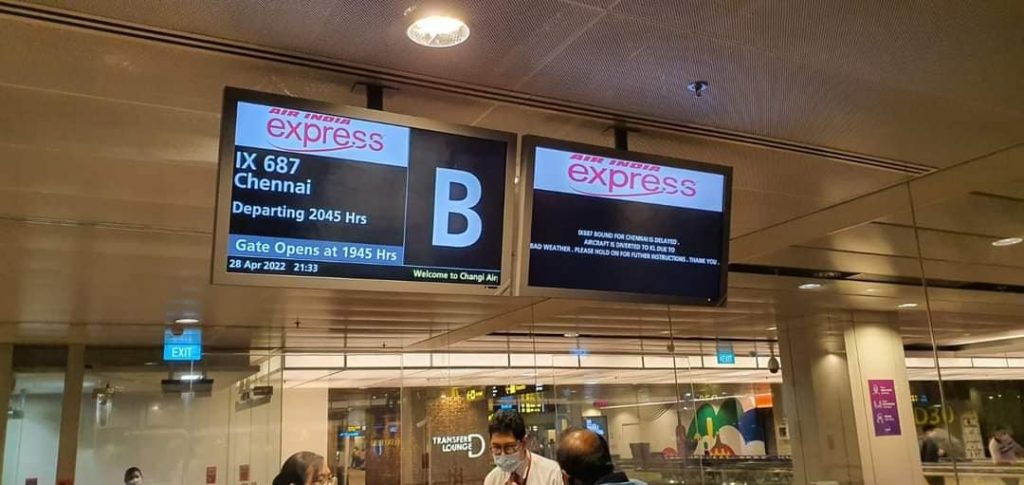 The passengers had already spent over 9 hours "without any food and refreshments" by this time.
"Finally, the captain and airport authorities arrived and decided to take the flight by 10.30 am (29/04/2022) the next day."
Some of the passengers went back to their homes. Others were taken to a hotel, according to Mr Prasad.
"I planned a short visit of 4 days to see my daughter. But half a day today and the entire day tomorrow is going to be completely wasted. Out of all this, I feel helpless and can't do anything at this point," said Mr Prasad.
NRI Affairs contacted Air India Express for a comment. The response is awaited.