Indian-origin British MP and son-in–law of N. R. Narayana Murthy, Rishi Sunak is a front-runner for the post if Boris Johnson is forced out.
It has been only two years since 41-year-old Rishi Sunak was appointed Chancellor of the Exchequer on 13 February 2020, but according to reports in the British media, he could be well on his way to becoming Britain's first Indian-origin, Hindu prime minister.
Rishi came into the national spotlight at the very beginning of the coronavirus pandemic, attempting to manage the economy during a very difficult time. Many were not aware of his existence before he was hired as a replacement for Sajid Javid as Chancellor of the Exchequer. Sunak was previously Chief Secretary to the Treasury from 2019 to 2020, and Parliamentary Under Secretary of State at the Ministry of Housing, Communities and Local Government from 2018 to 2019. Since 2015, he has been the Member for Parliament (MP), Richmond (Yorks), North Yorkshire.
Rishi was born in Southampton to Punjabi Hindu parents, who emigrated from East Africa. Usha Sunak, his mother, ran a medical shop and his father, Yashvir Sunak worked as a general physician at the NHS. Rishi attended Winchester College and as a Fulbright scholar, he studied philosophy, politics, and economics at Lincoln College in Oxford. He met his future wife, Akshata Murthy while studying at Stanford University for an MBA.
Akshata, 41, is daughter of Indian billionaire businessman, N. R. Narayana Murthy, co-founder of Infosys, the second largest IT company in India. Akshata is a billionaire by her own rights, with a personal fortune that is estimated to be at £430million, making her, according to some reports, richer than the British Queen whose personal wealth spans £350million. She runs a fashion label called 'Akshata Designs' and also works as a director of a venture capital company founded by her father in 2010.
Follow NRI Affairs on Facebook and Twitter for latest updates. Support us on Patreon.
Rishi and Akshata were married in August 2009, in a two-day wedding ceremony in Bangalore. The pair initially lived in California, but they relocated to the UK with their two daughters, Krishna and Anoushka. They now reside in Northallerton, North Yorkshire, but they still own a flat in Santa Monica in California. According to The Times, Rishi and Akshata own ''at least four properties'', including a £7 million house in Kensington. However, it is this affluence of the Brexit-backing Chancellor, that may draw fire from Tory backbenchers over him being the wealthiest MP in Parliament.
Sunak swears his oath of allegiance as an MP on the Bhagavad Geeta and was seen lighting lamps on the front steps of his official residence in 2020 while urging everyone to abide by Covid lockdown rules. On that same evening Boris Johnson was reportedly celebrating with friends the downfall of his then-chief advisor Dominic Cummings.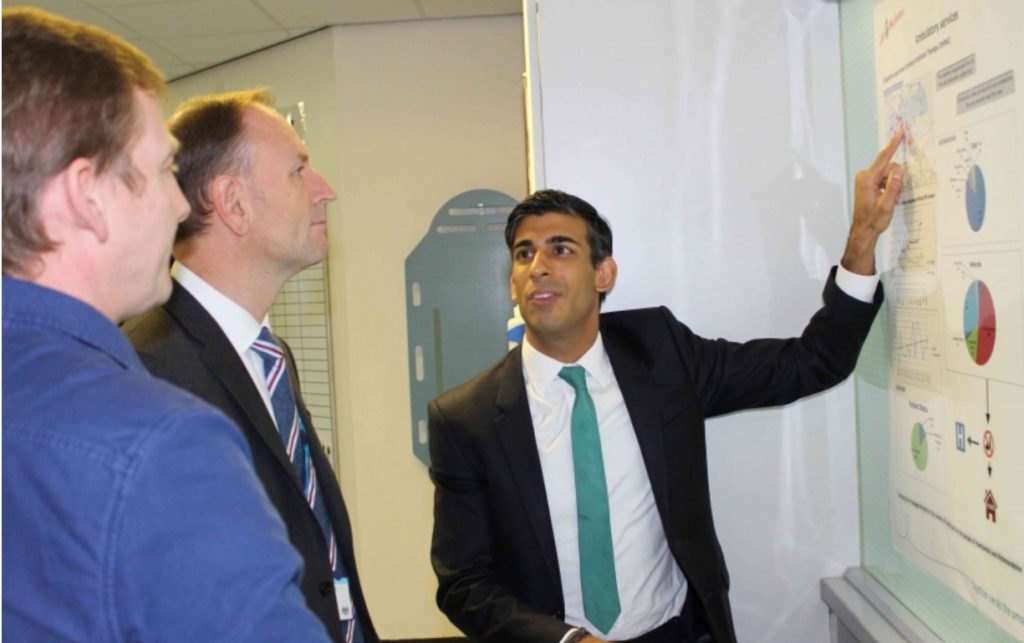 Some of Sunak's Tory colleagues look at the Chancellor as a "frontrunner" to replace the current prime minister, Boris Johnson. Mr Jonhson's government has recently been rocked by a political scandal involving parties and other gatherings of government and Conservative Party staff that were held during the peak of COVID-19 pandemic at the official residence of the British Prime Minister, when public health restrictions prohibited most gatherings elsewhere. The prime minister was present in at least three out of these 12 gatherings being investigated by the Metropolitan Police.
According to many political commentators, decline in public support could mean that Boris Johnson's days at No 10 could be numbered.
Mr Sunak, so far, hasn't taken any rumours for granted. He hasn't confirmed or denied his intentions of becoming prime minister and declared that becoming the next PM is "not what I'm focused on" as he explained talk of a leadership contest as a "hypothetical situation".
Also read: Australian cricketer Glenn Maxwell's wedding card in Tamil goes viral on social media
Until recently, Boris Johnson has enjoyed the unwavering support of the Chancellor. But people are beginning to see some key signs that could indicate that Mr Sunak wants to make a leadership bid soon.
For one, Rishi Sunak did not take up his usual place by Boris Johnson's side when the PM apologised for his handling of the party-gate scandal unlike legions of other top politicians in the Troy party. The Chancellor was in fact attending a local business event more than 200 miles away from the capital at that instance. Raising eyebrows is the fact that the local business event wasn't even in his own constituency. Commentators are questioning the real motivation behind the trip at such a crucial time for the prime minister. Speculation is rife that the Chancellor had hoped to distance himself from Boris Johnson's scandals.
It remains to be seen whether Rishi Sunak's diligence, discipline and hard work pay off in the long run, when his party members have to decide on a candidate to replace Boris Johnson, if he is forced to leave his post.