India occupied 69th position on the list of countries with the strongest passports, while the United Arab Emirates took the top spot in the rating of passports for 2022. India got a Mobility Score of 72, marked Visa-Free on 21 nations in the index. The index also mentioned Visa On Arrival needed for 48 nations, eTA 3, Visa Required in 126 nations, and a World Reach of 36% for India.
The Passport Index 2022, issued by Arton Capital, ranks the world's strongest and weakest passports and tells you how many countries you can visit without a visa.
Travellers with a UAE passport can access 180 countries without any hassles, including 121 countries that offer visa-free entry and 59 countries that offer visas on arrival. For just 89 nations, a visa is necessary.
Ten European nations, including South Korea and Germany, Italy, France, Spain, and Luxembourg, took the second spot. They are able to enter 126 countries without a visa but require one upon arrival in 47 of them.
With the ability to visit 116 countries without a visa, the United States passport is placed third, and the United Kingdom comes in at number four.
Indians, who are ranked 69th, can only travel visa-free to 24 countries; they must obtain a visa in order to enter 48 other countries, while 126 other countries require a visa. India is ranked alongside nations like Tanzania, the Gambia, Ghana, and Uzbekistan.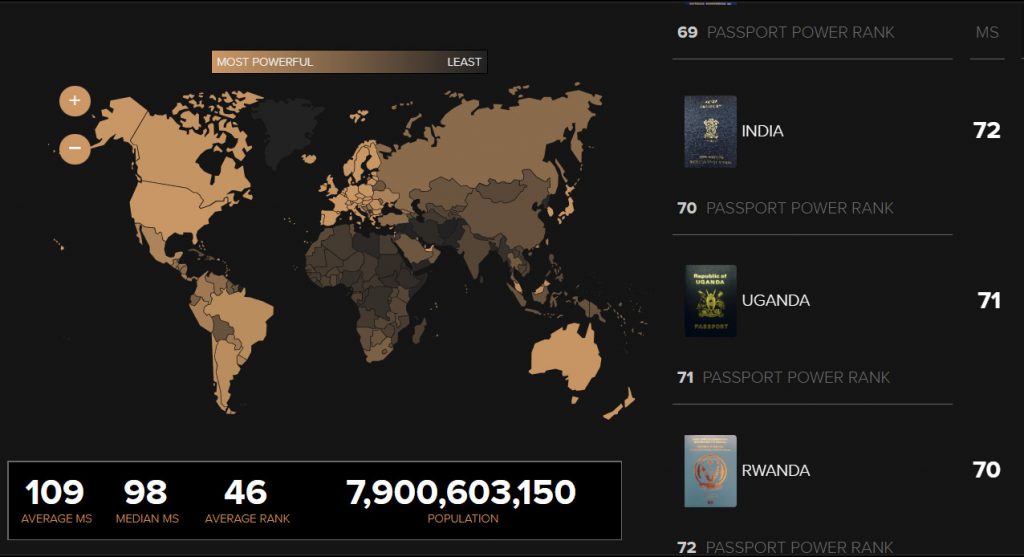 With only 38 countries on its visa-free list, Afghanistan is last on the list. Pakistani passport holders can travel visa-free to only 10 countries, while Syrian and Iraqi citizens can only enter 8 countries.
193 United Nations members and 6 selected territories' passports are analysed in the Passport index. Excluded and not taken into consideration as destinations are states that do not issue their own passports. Destinations are defined as those nations that issue passports, regardless of whether or not they have autonomous visa regulations.
The information is based on official data provided by governments, updated in real-time with intelligence gathered through crowdsourcing, and strengthened with private research from very reliable sources.
A three-tier system is used to rank each passport according to its mobility score (MS), which compares visa-free (VF), visa on arrival (VOA), electronic travel authorization (eTA), and electronic visa (if issued within three days) options. The United Nations Development Program's 2018 Human Development Index (UNDP HDI) is also used to break ties. The UNDP HDI is a crucial indicator of how the nation is being seen internationally.
Our passports, one of the most important identity accessories, have developed beyond their physical shape and now affect worldwide opportunity, freedom of mobility, and quality of life. Governments are required to maintain and raise their passport rankings, and The Passport Index has established itself as a reliable ally in enabling global mobility.