As the police attempt to find the alleged killer of Queensland lady Toyah Cordingley in India, a record $1 million reward is being offered for his capture. Cordingley, 24, was murdered in October 2018 while walking her dog near Wangetti Beach, north of Cairns. Her father found her dead and called the police. Indie, the dog she had loved, was discovered tied to a nearby tree.
Detective Inspector Sonia Smith told the ABC that Rajwinder Singh is suspected to be in India. Two days after Cordingley's death, Rajwinder Singh, a nurse in Innisfail, boarded an aircraft for India, leaving his career and family behind. She indicated that a reward would be given for information that led to his location and arrest.
The murder of Ms. Cordingley, which she said devastated the people of Cairns, has been the subject of a four-year enquiry led by Detective Inspector Smith.
Detective Inspector Smith said, "We are giving somebody a million reasons to come forward and give us information that will lead to the location and arrest of Rajwinder Singh. We only need one person to come forward and tell us where he is."
"We will take information from anywhere across the world. We are appealing to the residents of India to also come forward and give us some information," she added.
Mr. Singh, a nurse who was residing in Innisfail at the time of the suspected murder, is reported to have flown from Cairns to Sydney on October 22, the day following Ms. Cordingley's passing. She claimed that after that flight, his arrival in India was verified. In March 2021, Australian authorities asked India to extradite Mr. Singh.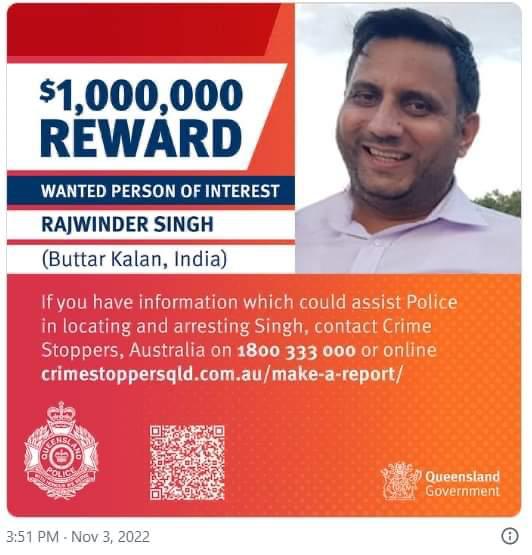 According to the ABC, the next Indian extradition court hearing has been scheduled for November 5; however, if he cannot be found, the hearing will be postponed. The extradition of Mr. Singh to Australia is now an issue for Indian authorities to pursue, according to a spokesperson for the Australian Attorney-General's Department. The spokesperson said that Mr. Singh was being sought after by Indian police.
Ms. Cordingley's name is still displayed in shopfront windows, on banners hung from trees, and on bumper stickers four years after her passing. To honour the kind soul who adored animals and sunflowers, thousands of stones carrying her name have been erected on various sites throughout the globe.
The horrifying incident, according to family spokesman Wayne Prong Trimble, is still having an impact on Ms. Cordingley's family and the community at large. But he said that they were still certain that justice would be served.
Mr Trimble said, "People are flabbergasted at how long things have taken, and we really haven't had much progress at all. There are so many questions, why it happened."
Ms. Cordingley helped at the Port Douglas Paws and Claws animal shelter, which designated a spot in a refurbished kennel in her honour.
"She had something special about her," according to Michael Kerr, her former boss at the time. Police are unwavering in their resolve to bring Ms. Cordingley's case to conclusion, according to Detective Inspector Smith.
"She was a loving daughter and sister to her family and enjoyed what life had to offer with her partner. Toyah was generous by nature and giving of her time," according to Detective Inspector Smith.
"The death of Toyah Cordingley is a tragedy for our community," she added.
The new $1 million reward is intended to spur a manhunt to find Singh, according to the police. It is not only the greatest reward ever granted in Queensland history, but it also differs from other rewards in that Singh's conviction is not a requirement.
Instead, the Police Commissioner will have the authority to provide the reward based only on an arrest. Vanessa Gardiner, Cordingley's mother, discussed her lingering anguish in an interview with 9News earlier this year.
Ms. Gardiner said, "It's very difficult, I cry every time I go past because she should still be here. Having the knock on the door from my son that night saying she was missing, never leaves either, I still dream about that."