Kerala police detained a lawyer Nazia Yusuf Izuddin, an Australia India Youth Dialogue (AIYD) invitee, who has been absconding since 2017.
AIYD invited Nazia Yusuf Izuddin to attend the 2022 conference in Sydney and Melbourne from 31 May – 3 June 2002, and the Emerging Leaders Retreat to be held in Melbourne from 4 June 2022 to 6 June 2022.
On Wednesday evening, Ms Izuddin was detained at Kochi international airport in Kerala due to her alleged involvement in a land fraud case in Dehradun. Kerala High Court granted conditional bail to Ms Izuddin.
There was a lookout notice against Nazia Izuddin, sister-in-law of Uttarakhand BJP MLA Kishore Upadhyay, in 2017. The authorities issued a Lookout Notice against individuals absconding or wanted by law enforcement agencies. The notice is given to ensure the individual does not leave the country. Therefore, it is mostly used at immigration checkpoints at international airports and seaports by immigration officials.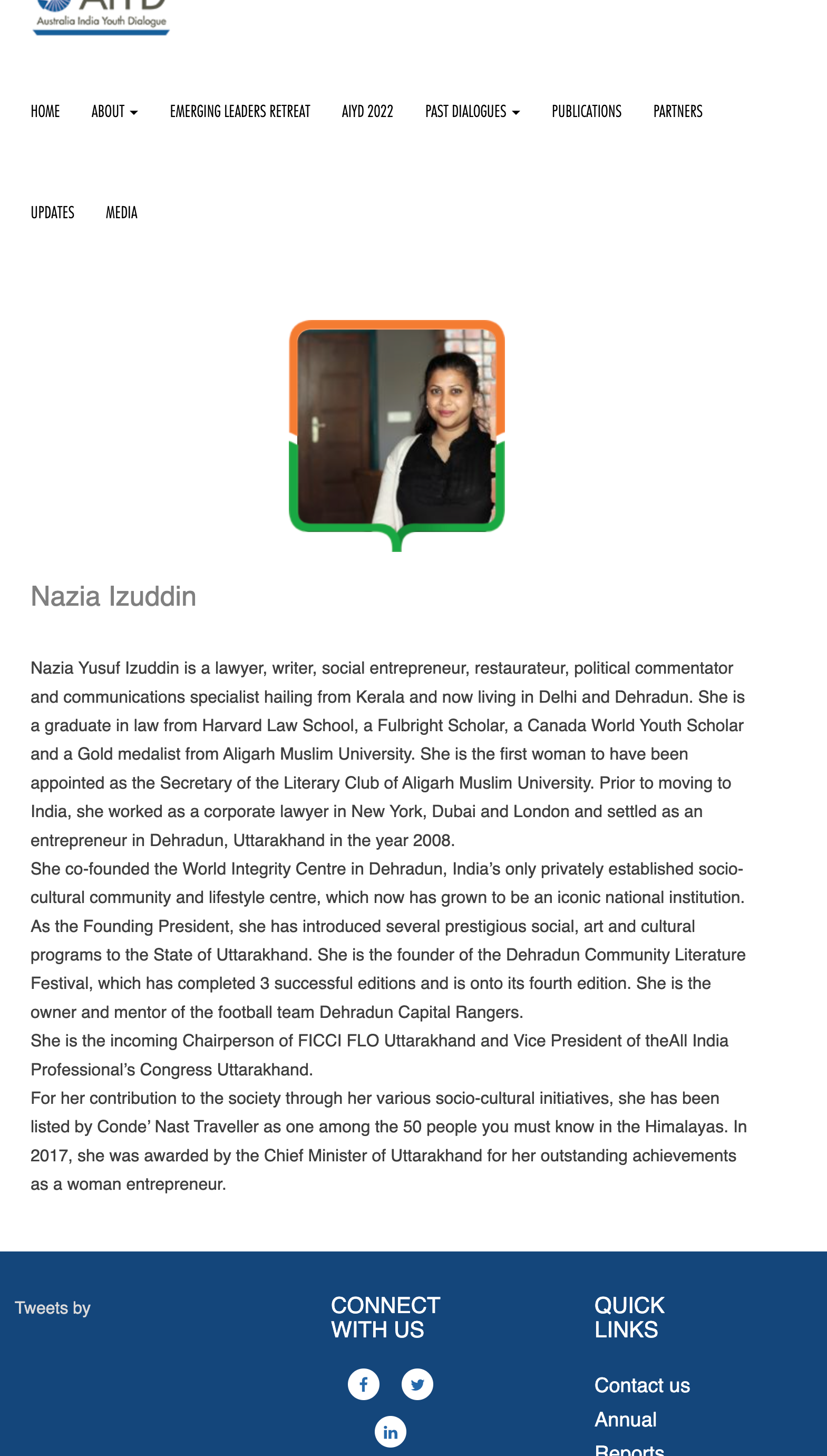 Police say Nazia Yusuf Izuddin is absconding while her husband Sachin Upadhyay is under arrest. The officials had also announced a prize of Rs 1,000 (18 AUD) for information on Izuddin.
According to the letter published by the Indian news website Avikal Uttarakhand, Chair of the AIYD Steering Committee, Manuraj Shunmugasundaram, wrote to the Australia High Commission's visa officer in India requesting a visa for Ms Izuddin on 5 April 2022.
"The letter is to inform you that Australia India Youth Dialogue (AIYD) has invited Nazia Izuddin to attend the 2022 AIYD to be held in Sydney and Melbourne, Australia, from 31 May – 3 June 2022, and the Emerging Leaders Retreat to be held in Melbourne from 4 June to 6 June. All expenses for their travel and accommodation for this duration will be covered by AIYD," reads the letter, adding, "We would be grateful if you could grant a visa to Nazia Izuddin to visit Australia to attend the dialogue."
NRI Affairs cannot verify the authenticity of the letter.
Read: Tejasvi Surya invitation row: Event partners stand firm with AIYD
According to the AIYD website, Nazia Yusuf Izuddin is a lawyer, writer, social entrepreneur, restaurateur, political commentator and communications specialist hailing from Kerala and now living in Delhi and Dehradun.
"She is a graduate in law from Harvard Law School, a Fulbright Scholar, a Canada World Youth Scholar and a Gold medalist from Aligarh Muslim University. She is the first woman to have been appointed as the Secretary of the Literary Club of Aligarh Muslim University. Prior to moving to India, she worked as a corporate lawyer in New York, Dubai and London and settled as an entrepreneur in Dehradun, Uttarakhand in the year 2008," reads Mz Izuddin's profile on the AIYD website.
AIYD says the organisers were not aware of the legal situation about Ms Izuddin.
"Ms Yusuf Izuddin was a delegate to the AIYD in 2019. She is a member of the AIYD steering committee in which capacity she was invited to attend this year's dialogue. The AIYD has not been aware of these legal matters so cannot comment further," an AIYD spokesperson told NRI Affairs in an emailed response.
This story has been updated with AIYD response.
Follow NRI Affairs on Facebook and Twitter for latest updates. Support us on Patreon.